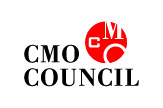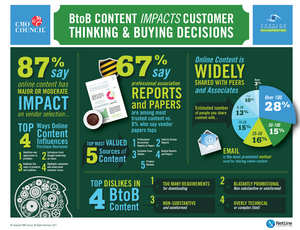 To download a copy of this infographic looking at the impact and value of BtoB marketing content and shares please go to http://www.cmocouncil.org/content-roi-program-details.php


PALO ALTO, CA -- (Marketwired) -- 06/03/13 -- A new Content ROI study by the Chief Marketing Officer (CMO) Council and NetLine reveals that business buyers give vendors poor marks for the value and trustworthiness of their online content, rating content produced by professional organizations and industry groups as more usable and relevant.

The report -- entitled, "Better Lead Yield in the Content Marketing Field" -- looks at the critical need for marketing organizations to bring more discipline and strategic thinking to content specification, delivery and analytics. This 11-page report, along with a separate summary of key findings from the survey, is available for download by visiting http://www.cmocouncil.org/r/better-lead-yield

BtoB marketers annually invest an estimated $16.6 billion* in digital content publishing to acquire business leads, influence customer specification and consideration, as well as educate and engage prospects.

Despite spending about 25 percent of their marketing budgets on content creation, most companies lack the necessary strategies, competencies and best practices to effectively engage their markets. And very few have content performance measures and metrics in place to scorecard effectiveness and calculate ROI.

According to the CMO Council's report, organizations need to have well-conceived, customer-centric themes and subject areas, strong content origination capabilities and partnerships, more effective delivery networks, and measurable content performance tracking systems.

The report includes findings from an online survey, entitled, "Define What's Valued Online," of more than 400 business buyers across a wide range of industries and functional areas worldwide. It clearly evidences that online content plays an essential role in influencing BtoB purchasing decisions. The survey tapped a sample of perspectives from those reached through NetLine's global content syndication network of 15,000 publishing sites, blogs and communities. The objective was to get a snapshot of BtoB content sourcing behavior and find out how content seekers rank, rate, share and value content online.

The following are among the survey findings:

•Eighty-eight percent of respondents say online content plays a major to moderate role in vendor selection. •Some 28 percent say they share content with more than 100 colleagues while another 31 percent share it with 25 to 100 people. •Peer-powered organizations are the most trusted and valued sources of online content; 67 percent of respondents named research and white papers from professional organizations among their most trusted content sources compared to just 9 percent who named vendor white papers. •Other trusted and valued types of content include papers from industry organizations (50 percent); customer case studies (48 percent); analyst reports (44 percent); and independent product reviews (41 percent).