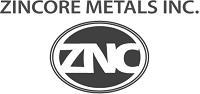 VANCOUVER, BRITISH COLUMBIA -- (Marketwired) -- 06/28/13 -- Zincore Metals Inc. (TSX: ZNC)(LMA: ZNC) ("Zincore", the "Company") announces that it will hold a special meeting of shareholders 9:00 am (PDT), Thursday, August 8th at the Walker Room, Terminal City Club, 837 West Hastings Street, Vancouver, BC. At this meeting the Company's shareholders will vote on three issues: permitting the Company to issue shares in lieu of cash for up to C$250,000 of certain management fees and salaries, consolidating the Company's shares by a ratio of up to 6 existing shares for 1 new share, and approving the possible conversion of the US$2 million loan from First Quantum Minerals ("First Quantum") into Zincore shares.

For further details on the First Quantum loan and the repayment options, please see below under "Conversion of the US$2 million Loan from First Quantum Minerals into Zincore Shares".

Zincore CEO and President, Jorge Benavides, stated, "We are proposing to issue shares in lieu of cash and to complete a share consolidation to help the Company weather the current resource company financing crisis and be much better positioned to raise funds in the future. We strongly believe that when the next financing opportunities for junior resource companies arise, they will be extremely competitive and many companies will not be successful in raising new capital to sustain their activities. For this reason, we believe it will be beneficial to our current shareholders to have the Company's capital structure made more attractive to future investors through a share consolidation, so that we may ultimately attract new funds and have the best chance possible to realize the value from our projects."

At the same time, the Company continues to move forward on achieving significant corporate milestones. In particular, the completion and release of a Pre-Feasibility Study on Zincore's 100% owned, Accha Zinc Oxide District project is expected in early Q3. The Company also expects to report on further exploration with First Quantum at the Dolores copper porphyry project and other priority copper targets located in the same area.

Mr. Benavides concluded, "We want to make it clear that we are not aware of any intention at this time on First Quantum's part to convert the US$2 million loan due April 17, 2014 into Zincore shares. In fact, First Quantum has two other options it may choose relating to the repayment of this loan, including having the loan credited against its earn-in obligations on the Dolores project, or credited against earn-in obligations for any new copper targets with Zincore. However, given that the conversion of the loan to Zincore common shares would require shareholder approval and that the loan will be due before the anticipated date of the Company's next Annual General Meeting, we believe it is prudent to deal with this matter now while we have other matters for our shareholders to consider."

An Information Circular containing the specific details of the special meeting and the issues to be voted will be mailed soon to all Zincore shareholders of record as of market close on June 21, 2013 and is summarized below. The Information Circular will also be available on the Company's website at http://www.zincoremetals.com/_shared/pdf/ZNC_Circular_20130628.pdf and SEDAR at www.sedar.com.