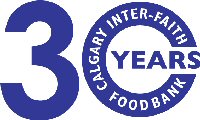 CALGARY, ALBERTA -- (Marketwired) -- 06/28/13 -- The Calgary Food Bank is meeting the needs of all who have been affected by the flooding, including those still evacuated, transitioning back home or who have been displaced from their residences. As a critical distribution hub, they are able to assist the city and Southern Alberta by sending warehouse reserves, collecting perishable and non-perishable items plus mobilizing partners and volunteers into the community.

In an effort to meet the needs of the community during this critical and unprecedented time, warehouse hours for receiving donations and distributing hampers to agencies have been extended:


The warehouse at 5000-11 Street SE will be open this Saturday and Sunday from 8AM to 4PM
They have also made the unusual move of providing on-the-ground support in various communities with one-day pop-up locations:
Friday, June 28 Bowness High School (4627 - 77 Street NW) Saturday, June 29 Western Canada High School (641-17 Ave SW)
As residents return to their homes and begin the task of cleaning up, they may find that many of their items are spoiled. A comprehensive
list
of much-needed items has been compiled and the Food Bank will support anyone affected by the floods with emergency food hampers.
The generosity of individuals and businesses, locally, provincially, nationally, even internationally, has been overwhelmingly generous. But the need will continue in the coming days and weeks. The Calgary Food Bank will continue to assess the needs on a daily, even hourly basis then mobilize to best meet the needs of the community.
For more information on the Calgary Food Bank, warehouse hours, volunteer opportunities and most needed items, visit the
Calgary Food Bank
website.
This release is transmitted courtesy of Marketwired.


Contacts:
Calgary Food Bank
Shawna Ogston
Media contact
403.870.2009