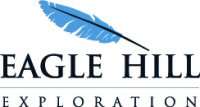 VANCOUVER, BRITISH COLUMBIA -- (Marketwired) -- 06/28/13 -- Eagle Hill Exploration Corporation (TSX VENTURE: EAG) ("Eagle Hill" or the "Company") is pleased to announce that it has entered into a binding letter agreement ("Noront Transaction") to acquire the remaining 25% ownership along with all other interests in the mineral claims of the Windfall Lake Property from Noront Resources Ltd. ("Noront"). Further, the Company has entered into financing agreements with Southern Arc Minerals Inc. ("Southern Arc") and Dundee Corporation ("Dundee") to provide a total of $12 million through two private placements of units (together with the Noront Transaction, the "Transactions").

Highlights


--  Consolidates ownership of the Windfall Lake gold deposit, a Quebec high-    grade gold exploration project presently hosting 538,000 oz Au at 10.1    g/t Au in the Indicated Category and 822,000 oz Au at 8.8 g/t Au in the    Inferred Category.--  Removes restrictive covenants and all future obligations to Noront with    regard to the Windfall Lake Property.--  Removes a preferential payment to Noront of $11.9 million from cash flow    upon commencement of production.--  Capital injection allows for a greater focus on expansion and upgrading    of the current mineral resource, proceeding to development activities at    the most optimal time.--  Additional board expertise through the nominees from Southern Arc and    Dundee.
"We have been involved in the development of Eagle Hill's Windfall Lake Project and the surrounding gold camp for approximately 20 years and are excited to see the project getting closer to being a producer," said Ned Goodman, President and CEO of Dundee Corporation. "We are excited to continue to support Eagle Hill and believe the high grade Windfall Lake mineralization has very good potential to grow well beyond the current resource."
"We are very pleased to bring to shareholders a series of transactions that will consolidate ownership of the Windfall Lake gold deposit. We welcome a new financial and technical partner in Southern Arc, and appreciate the confidence shown by Dundee through its increased holdings. With the closing of the Transactions, we look forward to commencing drilling in September," stated P. Bradley Kitchen, CEO and President of Eagle Hill.
Additional Details
Pursuant to the Noront Transaction, Eagle Hill will acquire all of Noront's remaining interest in the Windfall Lake Property for consideration of $5 million in cash and 25 million common shares of Eagle Hill. Eagle Hill has also made a payment of $615,000 to Noront, leaving $4,385,000 to be paid upon completion of the Transactions. Noront will not retain any net smelter royalty or further rights on the property.
Concurrent with the Noront Transaction, Eagle Hill has entered into financing agreements with Southern Arc and Dundee pursuant to which Southern Arc will make an investment of $7.3 million and Dundee will increase its existing 18.8% ownership with an additional investment of $4.7 million by way of private placements (the "Private Placements") of units (the "Units") at a price of $0.075 per Unit. Upon completion of the Transactions, Southern Arc and Dundee will each hold 26.2% of Eagle Hill. Each Unit consists of one common share and one half of one common share purchase warrant. Each whole warrant ("Warrant") will entitle the holder to purchase one common share of Eagle Hill at a price of $0.10 per common share for a period of four years.