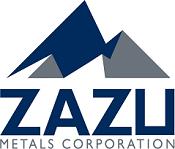 VANCOUVER, BRITISH COLUMBIA -- (Marketwired) -- 06/27/13 -- Zazu Metals Corporation (TSX: ZAZ) ("Zazu") is pleased to announce voting results from the annual and special meeting of its shareholders (the "Shareholders") held today (the "Meeting") in Vancouver, British Columbia.

The majority of Shareholders voted in favour of all resolutions at the Meeting as set out in Zazu's management information circular dated May 27, 2013. At the Meeting, Shareholders approved the following items of business:


-- the election of each of Gil Atzmon, Joshua D. Crumb, Robert Giustra, Bryan Morris, Dennis H. Peterson and Paul F. Saxton as directors of Zazu until the next annual meeting of Shareholders or until their successors are elected or appointed;-- the appointment of PricewaterhouseCoopers LLP, Chartered Accountants as auditors of Zazu for the ensuing year;-- the approval of all unallocated stock options under Zazu's existing stock option plan until June 27, 2016. The approval of the unallocated stock options was required because Zazu's stock option plan is a rolling stock option plan and under the rules of the Toronto Stock Exchange shareholders are required to approve all unallocated stock options issuable under a rolling stock option plan every three years; and-- the ratification and approval of Zazu's shareholder rights plan previously adopted by the board of directors of Zazu on May 13, 2013.
Cautionary statement:
The TSX does not accept responsibility for the adequacy or accuracy of this press release. No stock exchange, securities commission or other regulatory has approved or disapproved the information herein.


Contacts:
Zazu Metals Corporation
Matthew Ford
President
210 858-7512
mford@zazumetals.com
www.zazumetals.com