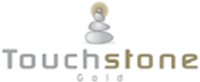 TORONTO, ONTARIO -- (Marketwired) -- 06/27/13 -- Touchstone Gold (TSX: TCH)(AIM: TGL)("Touchstone" or the "Company") is pleased to announce the discovery of a new high-grade mineralized trend, known as the Bonanza Zone, at the Company's Segovia Gold Project ("the Project") in Colombia. The Bonanza Zone is located approximately 350 metres due west of the Project's Pepas-Filodehambre trend, which has been the focus of over 15,000 metres of diamond drilling by Touchstone.

Highlights


--  The newly discovered high-grade zone is located in the recently acquired    El Cinco property--  The new high-grade zone is located 350 metres due west of the Segovia    Gold Project's Pepas- Filodehambre trend and measures 600 metres by 30    metres--  Initial results from the soil survey indicates the presence of two    significant gold geochemical anomalies:    1.  a north-south trending gold anomaly, parallel to the Pepas Trend,        measuring approximately 900 metres in strike length and        approximately 150 metres in width, and    2.  a northwest-trending gold anomaly, located adjacent to and on a        northwest trend to the first anomaly, measuring approximately 1000        metres in strike length and approximately 150 metres wide, remaining        open to the northwest--  18 rock samples over a distance of 500 metres were collected over the    North Bonzana trend, results of which include: JWR013031- 50.50 g/t Au;    JW013014 - 14.80 g/t Au; JWR13024 - 8.646 g/t Au; JWR013032 - 5.423 g/t    Au
"We are encouraged by the discovery of another mineralized trend that is similar in size to our Pepas- Filodehambre-1141 zone. Finding the Bonanza Zone enhances the high-grade profile of our land package and increases our confidence in the multi-million ounce potential of our Segovia Gold Project. Touchstone continues to move forward in our pursuit to build a low-cost, near-surface, high-grade gold production scenario" commented David Wiley, President and CEO of Touchstone Gold.
Details
The Bonanza Zone was identified in deforested areas of the El Cinco Property. The Bonanza Zone is characterized by numerous quartz boulders ranging in size from 0.5 to 4.0 metres in size, dispersed along a strong linear trend of approximately 30 metres by 600 metres. Sulphide mineralization observed within the quartz boulders is typically pyrite and chalcopyrite occurring as disseminations along fracture planes and as boxwork textured clots. Initial observations suggest that the characteristics of the mineralization observed at the Bonanza Zone are very similar to the style of mineralization observed in the Pepas-Filodehambre-1141 and Tagual zones of Touchstone's Rio Pescado Property.
Interpretation of LiDar imagery from the Bonanza Zone area indicates that the mineralized boulders are associated with both north and northwest- trending structural linears. Both of these structural linears are believed to be important with respect to gold-bearing structures in the Pepas-Filodehambre and 1141 zones.
A total of 72 stream sediment samples were initially taken from drainages in the immediate area of the newly discovered quartz boulders. Several drainages with anomalous gold values were identified. A detailed soil geochemical survey and rock sampling program, consisting of 464 soil samples and 30 rock samples were collected on a grid basis over the mineralized boulder trend and covering the area of geochemically anomalous stream sediment samples. The soil geochemical grid covered an area of 650 metres x 1000 metres with samples collected every 25 metres from east-west lines spaced 50 metres apart. Samples were taken utilizing hand augers and collected at a consistent 50-60cm depth.