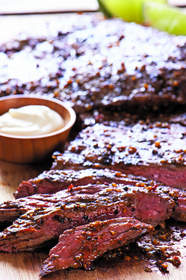 Grilled Skirt Steak with Citrus


MISSION, KS -- (Marketwired) -- 06/27/13 -- (Family Features) The best parties bring together great food, great ingredients, and great people. To make your party stand out, take advantage of resources you already have to create an inviting and warm atmosphere for party guests.

The Right Ingredients Make for a Perfect Summer Get-Together
Everyone knows the key elements to a fantastic backyard barbeque are great company, exciting conversation, and delicious recipes -- so be sure to pull together the perfect grilling menu that will keep your guests' smiles as warm as the summer sun.

Get creative when planning your summer party. Kids also will love to get involved and add their own personal touches to the big event. Simple items, such as blankets, oversized pillows, Mason jars and mismatched dinnerware will create the feeling of home and comfort to all. These simple additions, along with essential recipe ingredients like Hellmann's Mayonnaise Dressing with Olive Oil, will make for an amazing summer menu and party for your friends and family.

Here are a few tips to make your outdoor party simple and smooth:
--Opt for Appetizers
Many party guests will want to nosh and mingle throughout the evening, so make sure you have plenty of appetizers, dips and chips on hand while you fire up the grill for the main course.

--Stick with Simple
Don't spend all of your resources on fancy snacks and sweets that require countless hours of preparation. Choose simple crowd favorites, such as the Texas Potato Salad made with just a few delicious ingredients including Hellmann's Mayonnaise Dressing with Olive Oil, which combines the creamy, rich Hellmann's taste you love with olive oil. This crunchy, fresh salad doubles as the perfect appetizer when served with tortilla or pita chips. Just create, plate and cover with plastic wrap and you have dishes ready to kick off a fabulous party.

--Fire up the Grill
In addition to appealing appetizers, be sure your guests have tons of options when it comes to the main party entrée. Easy dishes, like Grilled Asparagus with Citrus Gremolata made with Hellmann's Mayonnaise Dressing with Olive Oil, can quickly be made on the grill for a delicious and easy treat that is sure to please party goers.

--Self-Serve Drink Stations
Allow guests to refill their drinks themselves by placing drinks on a small end table or cart. Cover it with a brightly colored tablecloth and stacked glasses. Don't forget your ice bucket and tongs for mixed cocktails. If you are serving beer or wine, ice them down in galvanized bins placed next to the drink station. Be sure to position the station away from the food to keep lines from forming.

Did you know that Hellmann's is celebrating its 100th birthday? For more great recipes and to learn more about the centennial celebration or download a coupon, visit www.Facebook.com/Hellmanns.



Grilled Skirt Steak with CitrusA Chef Tim Love recipe1 cup Hellmann's or Best Foods Mayonnaise Dressing with Olive Oil4 (8-ounce) outside skirt steaks1/2 cup peanut oil Kosher salt and cracked black pepper (to taste)2 tablespoons Chef Tim Love Steak Rub*2 limes, cut in half2 lemons, cut in half1 tangerine, cut in half
Heat grill on high with lid closed for 30 minutes or light charcoal and let burn to white coals. Rub the steak with oil and season with salt and pepper, then the rub. Place the steak on the hot grill for 3 minutes on each side. Squeeze a lime half on each steak. Remove and rest for at least 3 minutes. Squeeze all citrus into a mixing bowl. Whip the dressing into citrus mixture and place in a squirt bottle. Cut steak against the grain and drizzle the citrus mayonnaise mixture over top. Serve immediately.
*Tip: Any good chili powder based rub can be used.
Grilled Asparagus with Citrus GremolataA Chef Tim Love recipe1/2 cup Hellmann's or Best Foods Mayonnaise Dressing with Olive Oil1 tablespoon olive oil1 teaspoon finely chopped garlic2 tablespoons minced shallot Grated peel of 1 lemon1/4 cup white wine1/4 cup lemon juice1 cup bread crumbs12 medium asparagus spears, trimmed2 tablespoons peanut oil Kosher salt and cracked black pepper to taste
Preheat grill to 450 degrees F. Heat olive oil in a small sauté pan on the grill. Just before the oil smokes add garlic, shallot, and lemon peel. Sauté slightly. Add white wine and lemon juice and simmer for 1 minute. Add bread crumbs and dressing and sauté until golden brown. Mix asparagus, peanut oil, salt and pepper. Grill for 3 minutes, turning fairly frequently. Place asparagus on a serving platter. Sprinkle bread crumb mixture over the grilled asparagus and serve.
Texas Potato SaladA Chef Tim Love recipe1/2 cup Hellmann's or Best Foods Mayonnaise Dressing with Olive Oil1/2 cup pickled jalapeños, diced1/2 cup sweet pickles, diced1/4 cup whole grain mustard1/2 cup fresh chives4 warm baked potatoes Salt and pepper (to taste)1/4 cup toasted pepitas (pumpkin seeds)
Mix dressing, jalapeños, sweet pickles, mustard, and chives in large bowl. Burst the potatoes and crumble apart. Add them to the mayonnaise mixture. Mix well and season with salt and pepper. Top with the toasted pepitas and serve.
About Family Features Editorial Syndicate

This and other food and lifestyle content can be found at
www.editors.familyfeatures.com
. Family Features is a leading provider of free food and lifestyle content for use in print and online publications. Register with no obligation to access a variety of formatted and unformatted features, accompanying photos, and automatically updating Web content solutions.
Image Available:
http://www2.marketwire.com/mw/frame_mw?attachid=2346543
Add to Digg
Bookmark with del.icio.us
Add to Newsvine


Vickie Rocco
vrocco@familyfeatures.com
1-888-824-3337
http://editors.familyfeatures.com