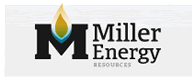 KNOXVILLE, TN -- (Marketwired) -- 06/27/13 -- Miller Energy Resources, Inc. (NYSE: MILL) (the "Company") announced today that it has priced an underwritten public offering of its 10.75% Series C Cumulative Redeemable Preferred Stock (liquidation preference $25.00 per share) (the "Series C Preferred Stock") at a public offering price of $21.50 per share. The Series C Preferred Stock is currently traded on the New York Stock Exchange, LLC, or NYSE, under the ticker symbol MILLprC.

Gross proceeds to the Company are expected to be approximately $7.2 million. Closing of the offering is scheduled for July 2, 2013, subject to customary closing conditions. The Company intends to use the net proceeds, if any, from the offering for general corporate purposes. The Company is filing a supplemental listing application to list these shares of Series C Preferred Stock on the NYSE. MLV & Co. LLC is acting as Sole Book-Running Manager for the offering. Aegis Capital Corp., Maxim Group LLC, National Securities Corporation and Northland Capital Markets are acting as Co-Managers.

The offering is being made pursuant to the Company's existing effective shelf registration statement, previously filed with the Securities and Exchange Commission ("SEC"). A final prospectus supplement relating to the offering will be filed with the SEC.

This press release shall not constitute an offer to sell or the solicitation of an offer to buy any securities nor will there be any sale of these securities in any state or other jurisdiction in which such offer, solicitation or sale would be unlawful prior to registration or qualification under the securities laws of any such state or other jurisdiction.

The offering of these securities will be made only by means of a prospectus and related prospectus supplement, when available. Before you invest, you should read the prospectus in the registration statement and related prospectus supplements and other documents that the Company has filed with the SEC for more complete information about the Company and this offering. Copies of the prospectus and accompanying preliminary prospectus supplement relating to these securities may be obtained for free by visiting EDGAR on the SEC website at www.sec.gov or by written request to Miller Energy Resources, Inc., 9721 Cogdill Road, Suite 302, Knoxville, TN 37932. Alternatively, you may obtain these documents by contacting the underwriters at MLV & Co. LLC, 1251 Avenue of the Americas, New York, NY 10020, Attention: Randy Billhardt, Email: rbillhardt@mlvco.com; Telephone: (212) 542-5882.

About Miller Energy Resources

Miller Energy Resources, Inc. is an oil and natural gas exploration, production and drilling company operating in multiple exploration and production basins in North America. Miller's focus is in Cook Inlet, Alaska and in the heart of Tennessee's Appalachian Basin including the Mississippian Lime and Chattanooga Shale. Miller is headquartered in Knoxville, Tennessee with offices in Anchorage, Alaska and Huntsville, Tennessee. The company's common stock is listed on the NYSE under the symbol MILL.