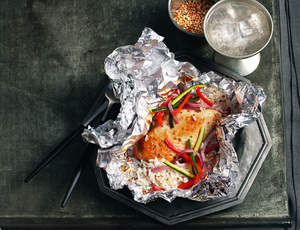 Quick and Easy Chicken Dinner on the Grill


MISSION, KS -- (Marketwired) -- 06/27/13 -- (Family Features) Every big, juicy steak deserves to be seasoned with an equally big, bold flavor. Next time you fire up the grill, layer on savory goodness with spices and marinades. They bring out the natural flavor of steaks, ribs, roasts, burgers, chicken and fajitas.

Start with a tender, savory cut and there is no need to marinate. Simply rub on a few complementary herbs and spices then sear in the goodness on the grill. Come up with your own combination or let the professionals do the work. Prepared blends, such as those from Mrs. Dash, are a quick and easy way to give guests great-tasting dishes, salt-free. After all, salt has nothing on the smokin' flavor of Mrs. Dash Southwest Chipotle Seasoning Blend. A blend that includes sweet chili, cayenne and chipotle pepper, it gives a flavorful kick to ribs, chicken, rice or beans.

Herbs and spices aren't just for entrees. Shake some extra flavor on side dishes and appetizers. They can turn your backyard grilling into something grand and gourmet.

For more recipes and information, visit www.mrsdash.com.

Marinade for Tender, Tasty Meats
Marinades are sauces designed to flavor and tenderize meat, chicken, fish or vegetables. Building a great marinade is a matter of finding the perfect balance of oil, acid and seasonings. Some spend a great deal of time on trial and error in an effort to perfect their recipe. Others leave it to professionals and buy a prepared sauce, such as Mrs. Dash Spicy Teriyaki Marinade.

A blend of salt-free seasoning with a touch of pineapple, it adds a kick to beef, chicken, pork or vegetables. Prepared marinades make your entrees juicy, tender and downright delicious. They also make entertaining easy. Place your protein or vegetables in a zip-top bag, fill with your favorite marinade and let it hang out until the guests arrive.



Quick and Easy Chicken Dinner on the GrillServings: 4Prep time: 5 minutesCook time: 12 minutes4      sheets non-stick aluminum foil, 12 x 18 inches4      (4-ounce) boneless chicken breasts1 1/3  cups instant rice12     thin slices red onion12     thin slices red pepper1      small zucchini, thinly sliced4      teaspoons natural butter flavor sprinkles4      teaspoons Mrs. Dash Original Blend1 1/3  cups low-sodium chicken broth
Preheat grill to medium high.
Place 4 sheets of non-stick aluminum foil on a flat surface. Turn up edges to form a lip. Place 1 chicken breast on each sheet of foil. Arrange 1/3 cup instant rice around chicken breasts. Arrange 1/4 of the red onion, red pepper and zucchini on top of each chicken breast. Sprinkle 1 teaspoon natural butter flavor sprinkles and 1/4 teaspoon of seasoning blend on each chicken breast. Add the balance of the seasoning blend to the chicken broth.
Double fold top on one end; pour 1/3 cup of the chicken broth into each package. Fold ends tightly, leaving room for heat to circulate and rice to expand.