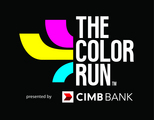 SINGAPORE -- (Marketwired) -- 06/27/13 -- The Color Run™, a unique five-kilometre fun run that gathers participants to run through showers of coloured powder in a celebration of health and happiness will debut in Singapore, the first city in ASEAN, over the weekend of 17 and 18 August, 2013. Dubbed the "happiest 5k on the planet", the untimed event, presented by CIMB Bank Singapore and organised by IMG, is expected to attract 16,000 entrants to take part in the experience.

"CIMB is very excited to be a part of The Color Run™'s debut in ASEAN. The Color Run™ is a unique way of combining fitness with fun, and bringing people of all ages and from all walks of life in Singapore together through the power of colours. Being a bank resident in ASEAN, CIMB couldn't think of a better reason to help remind and celebrate the wonderfully diverse and colourful cultures and lifestyles in the region. I am sure the message of health and happiness resonates with the people of Singapore and it will become an event that we look forward to for years to come," said Mak Lye Mun, CEO, CIMB Bank Singapore.

Exploding in popularity since its January 2012 launch, it has become the single largest event series in the United States and is gaining traction around the world. For 2013, there are more than one million entries registered for over 100 international events and The Netherlands edition of The Color Run™ sold out within 18 minutes of tickets going on sale.

The Color Run™ celebrates healthiness, happiness, individuality and giving back to the community. Thousands of participants of all ages and abilities will unite, becoming a moving canvas as they make their way through four different coloured zones: CIMB is hosting red as Presenting Sponsor and Official Bank, with the others being sponsored by MINI as Official Car in yellow, a pink immersion with The W Singapore - Sentosa Cove, the Official Hotel, and New Balance our Official Footwear & Apparel owning the blue section. The atmosphere will be alive with music pumping as runners are doused from head to toe in vibrant powder. The excitement continues at the finish line with a gigantic "Color Festival", using more colour to create a rainbow of photo opportunities and lasting memories. As the Official Venue, Sentosa is the perfect location for this outdoor lifestyle celebration. Fitness First will be the Official Fitness Partner with 100 PLUS making sure that participants stay hydrated throughout as Official Isotonic Beverage. Official media partners 98.7FM, Lush 99.5FM and 8 DAYS magazine will provide information in the lead up to the run, and offer the chance for the public to win tickets.

"We are delighted to bring such a fantastically vibrant new event to Asia. Offering an out-of-the-ordinary running experience combined with a prestigious family of first class sponsors, this is sure to be one of the most unique events that Singapore has ever seen," shares Robbie Henchman, Senior Vice President and Head of Business Development, IMG Asia-Pacific.

In keeping with The Color Run™'s tenet of giving back to the community, $1 from every registration will be donated to Project Happy Feet -- a charity supported by CIMB Bank. Project Happy Feet is a Singapore-based not-for-profit organisation set up to empower the lives of underprivileged youths and children in developing countries by supporting their education and training through fund-raising for education-related initiatives and programmes that positively impact them or their families. To date, it has supported more than 4,000 children and youth in Singapore, Vietnam, Cambodia and Nepal through its programmes.