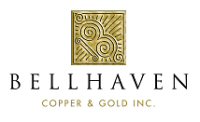 VANCOUVER, BRITISH COLUMBIA -- (Marketwired) -- 06/27/13 -- Bellhaven Copper & Gold Inc. (TSX VENTURE: BHV) ("Bellhaven" or the "Company") is pleased to announce that two additional drill holes collared at the same location as the discovery hole announced on June 5th (LME-1100: 217 m of 1.3 g/t Au and 0.15% Cu or 1.5 g/t AuEq) delivered substantial intercepts of gold and copper (see Tables 1 and 2). Highlights of the drilling include:


LME 1102: 158 m @ 1.01 g/t gold and 0.17% copper (1.26 g/t gold equivalent),          including 52 m @ 1.83 g/t gold and 0.21% copper (2.15 g/t gold          equivalent)LME-1101: 96 m @ 0.50 g/t gold and 0.13% copper (0.73 g/t gold equivalent),          and 80 m @ 0.49 g/t gold and 0.06% copper (0.57 g/t gold          equivalent)
Both drill holes contained intercepts starting less than 10 m down the hole, indicating that the mineralized material at La Garrucha is shallowly seated and may be amenable to low-cost, open-pit mining. The upper end of the long, 158-m intercept averaging 1 g/t gold from LME-1102 occurs only 30 m vertically below the surface. This same intercept also demonstrates nearly 300 meters of vertical continuity of 1-g/t gold mineralization between itself and LME-1100 (227 m @ 1.3 g/t gold and 0.15% copper or 1.5 g/t gold equivalent).
For figures showing plan maps and cross sections highlighting the new drill holes announced in this press release, please use the link below:
http://file.marketwire.com/release/bhv0626.pdf
Julio Benedetti, Bellhaven's CEO and Chairman, commented as follows:
"We are pleased that these two holes confirm the La Garrucha discovery hole we announced in early June. LME-1102 builds upon LME-1100 to demonstrate substantial vertical size to the deposit. Our current drill hole, LME-1103, is designed to test whether the vertical continuity of 1-g/t gold mineralization exceeds 300 meters. As new drill sites are constructed, the Company will be in a position to test the eastern boundary of the deposit as well as the southern and northern boundaries which currently remain open."
"These are exciting times for the Company as we believe La Garrucha is truly special and may rival in grade and size our La Cantera prospect, one of the highest grade porphyry gold deposits in the Americas. We look forward to receiving the assays and announcing the results of the current hole, LME-1103, in the weeks ahead."
In accordance with National Instrument 43-101, it is noted that the potential quality and grade at La Garrucha is conceptual in nature, that there has been insufficient exploration to define a mineral resource, and that it is uncertain if further exploration will result in a target being delineated as a mineral resource.
Discussion of Drilling Results
The two holes were drilled from the same drilling platform as the first hole of the drilling campaign, LME-1100, and tested the outer margins of the core region of the discovery. This provided the Company the time necessary to construct additional drill platforms to test the core of the La Garrucha discovery. The current drill hole now in progress, LME-1103, is a scissor hole to LME-1100 and is anticipated to provide a meaningful test of La Garrucha's core region.