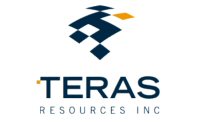 CALGARY, ALBERTA -- (Marketwired) -- 06/26/13 -- Teras Resources Inc. ("Teras" or the "Company") (TSX VENTURE: TRA)(OTCQX: TRARF) -

Teras is pleased to report that Dr. William C. Bagby has been appointed as Technical Advisor to the Board of Directors effective June 24, 2013. Dr. Bagby, California PG 7396, AIPG CPG-11457, was engaged by the Company in February of this year to lead a highly professional technical team to conduct a comprehensive review of the recent and historical data generated for the Cahuilla project. Dr. Bagby's accomplishments to date have been instrumental in advancing Teras' technical understanding of Cahuilla and he will be playing a critical role in planning Teras' upcoming exploration program focused on the search for deeper high grade feeder zones.

Dr. Bagby has more than 35 years' experience in the minerals business and is currently the Principal of WC Bagby Economic Geology, which specializes in mineral deposit evaluation, appraisal and mineral resource assessment. Prior to operating his own company, Dr. Bagby served as a research and economic geologist for the United States Geological Survey for ten years including Branch Chief, Western Mineral Resources at Menlo Park, California. Dr. Bagby has also held the position of economic geologist with Chevron Resources and Homestake Mining Company (now Barrick Gold Corp.). He received his B.A. in Biology at the University of California, San Diego in 1971 and Ph.D. in Earth Science at the University of California, Santa Cruz in 1979.

Peter Leger, President and CEO of Teras Resources, remarked, "Dr. Bagby has undoubtedly played an integral role in the advancement of Cahuilla and I am delighted he has joined our management team as an advisor to the board. Bill brings a wealth of technical geologic and precious metal knowledge to Teras and will prove to be an extremely valuable asset for developing Cahuilla as well as all other projects the Company controls."

Mr. Leger added, "As of today, Dr. Bagby's exceptional work and recommendations have significantly improved our understanding of Cahuilla by enhancing the technical database; and as a result, we can more confidently design future drill programs focused primarily on defining high grade precious metal targets. Having a well-respected and highly qualified professional such as Bill involved with our Cahuilla project significantly increases our confidence regarding the development of Cahuilla into a substantial economic gold/silver asset which will inevitably increase the value of Teras for our shareholders."

Subject to regulatory approval, the Company will grant to Dr. William C. Bagby, under the terms of its stock option plan, options to purchase up to 100,000 common shares at a price of $.47 per share. The options will vest over an 18 month period and have an expiry date of June 26th, 2018.

About Teras

The Company is focused on developing its Cahuilla project located in Imperial County, California. The project encompasses an area of at least 3 km by 1.5 km and demonstrates the potential for a large-scale, bulk mining operation consisting of altered and mineralized sedimentary and volcanic host rocks with numerous sheeted high-grade quartz veins. Teras filed a NI 43-101 compliant technical report with an indicated resource of 1.2 million plus ounces of gold and 11 million plus ounces of silver on its Cahuilla project (70.148 million tons at an average grade of 0.015 ounces per ton gold and 0.17 ounces per ton silver with a cutoff of 0.008 ounces per ton gold). The Company has an aggressive plan to increase the resource and develop the project for future mining operations.