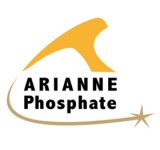 SAGUENAY, QUEBEC -- (Marketwired) -- 06/26/13 -- Arianne Phosphate Inc. (the "Company" or "Arianne") (TSX VENTURE: DAN)(FRANKFURT: JE9N)(OTCBB: DRRSF) is pleased to announce the appointment of Mr. Brian Kenny as its new Chief Executive Officer, effective July 3rd, 2013.

Brian is a seasoned project development executive, having most recently overseen the development and completion of the 7B$ EMAL smelter project in Abu Dhabi and directed more than $10 billion in development projects in Saudi Arabia, Western Algeria, and Kazakhstan over 5 years with Dubai Aluminium Co Ltd. As Project Director, Brian managed all technical, legal, financial and environmental aspects of the projects. He also arranged project finance, negotiated project agreements, and coordinated with host country government ministries and local agencies.

Prior to his experience with Dubal, Brian directed the design, development, construction, startup and operation of the $4 billion Koniambo nickel project over a 3-year period as President and CEO of Falconbridge New Caledonia and Koniambo Nickel SAS. Again, Brian directed the EPCM teams and all project development activities, including project finance, environmental permitting and liaising with the government of France, New Caledonia and local communities.

Brian also brings more than 30 years' experience with large engineering firms, having served 6 years as President of Bechtel Canada, 5 years as Executive VP of ABB Canada Inc. and more than 20 years with Met-Chem Canada (Quebec), including as Managing Director of North American Operations.

An electrical engineer with MS and BS degrees from McGill University, Montreal, and the University College Dublin, and an extensive history as a member of the Ordre des Ingenieurs du Quebec, Brian is familiar with Quebec and the Saguenay region from his experience in aluminum smelting at Alma and many other Quebec industrial development projects. He arrives at Arianne in time to have an impact on the completion of the Company's Feasibility Study in August.

Commenting on the addition of Brian to the Arianne team, Chairman Guthrie Stewart commented "We feel extremely fortunate to have attracted such an experienced and successful international veteran of project development to lead Arianne's development of Lac a Paul." Further that "We are confidant Brian will integrate quickly with the current team working with our COO, Jean-Sebastien David. And we feel that Brian's fundamental knowledge of EPCM contract negotiation and execution, his extensive experience in permitting, construction, startup and operations of mining and smelting projects, and, as well, his hands-on application of sustainable development and impact mitigation principles with local communities make him ideally suited to the tasks ahead for Arianne's management."

Mr. Kenny will receive 400,000 Arianne options (the "Options") in accordance with Arianne's stock option plan and stock option grant policy (the "Policy"). Each Option entitles the holder to purchase one common share of the Company until June 26, 2023 at a price of $1.11 per share, being the closing price of the Company's shares on the trading day preceding the date of grant. The Options are subject to a three-year vesting period under the stock option plan and the Policy, and are also subject to regulatory approval.