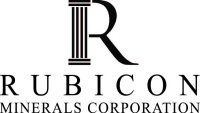 TORONTO, ONTARIO -- (Marketwired) -- 06/25/13 -- Rubicon Minerals Corporation (TSX: RMX)(NYSE MKT: RBY) ("Rubicon" or the "Company") is pleased to announce positive results and highlights from a new preliminary economic assessment ("New PEA")(1) and updated mineral resource estimate completed by SRK Consulting (Canada) Inc. ("SRK") for the F2 Gold System, which comprises part of the Company's flagship Phoenix Gold Project, located in Red Lake, Ontario. A technical report documenting the New PEA will be filed on SEDAR within 45 days in accordance with the requirements of National Instrument 43-101 Standards of Disclosure for Mineral Projects ("NI 43-101").

Readers are cautioned that the New PEA is preliminary in nature and includes inferred mineral resources that are considered too speculative geologically to have the economic considerations applied to them that would enable them to be categorized as mineral reserves. There is no certainty that the inferred resources will be converted to the measured and indicated categories, that the indicated resources will be converted to the proven and probable mineral reserve categories and there is no certainty that the New PEA will be realized. Mineral resources that are not mineral reserves do not have demonstrated economic viability; the estimate of mineral resources in the New PEA and updated mineral resource statement may be materially affected by environmental, permitting, legal, title, taxation, socio-political, marketing, or other relevant issues.

All financial figures are in Canadian dollars unless otherwise specified

New PEA Highlights:


--  On a go-forward basis, the Phoenix Gold Project base case demonstrates    an after-tax internal rate of return(2) ("IRR") of 27.0% and a 5%    discounted after-tax net present value(2) ("NPV") of $531.0 million; on    a pre-tax basis, IRR and NPV are 28.7% and $650.0 million, respectively;--  Total life of potential mine ("LOM") projected gold production of 2.19    million ounces, an 18.0% increase over the previous conceptual    production plan(3);--  Average annual projected gold production of 165,300 ounces, expected to    peak at 242,000 ounces in year 2022;--  The primary projected mining method(3) is intended to be longhole    stoping ("longhole"); 90% of the LOM production is planned to come from    longhole stopes and 10% from cut-and-fill mining;--  Average grade of mill feed is 8.1 grams of gold per tonne ("g/t Au") at    a cut-off grade of 5.0 g/t Au; external dilution of 15% was applied to    the conceptual mine plan, plus internal dilution of 26%;--  Average LOM cash operating cost is $629 per recovered ounce or $151 per    tonne; including a 1.5% royalty(4) the average LOM total cash operating    cost is $651 per recovered ounce of gold or $156 per tonne;--  Average LOM all-in sustaining cash costs(5) are $845 per ounce or $203    per tonne;--  Average annual post-tax cash flow from operations is $69.0 million;--  On a go-forward basis, pre-production capital expenditure is $224.0    million (including a 20% contingency)(6); and--  Average daily LOM throughput is approximately 1,900 tonnes per day    ("tpd").