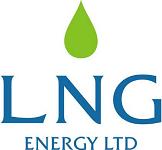 VANCOUVER, BRITISH COLUMBIA -- (Marketwired) -- 06/25/13 -- LNG Energy Ltd. ("LNG") (TSX VENTURE: LNG) is pleased to announce that it has entered into a definitive agreement (the "Agreement") with Enterprise Energy Resources Ltd. (TSX VENTURE: EER) ("Enterprise") whereby LNG will acquire, through a court-approved plan of arrangement (the "Arrangement") under the Business Corporations Act (British Columbia), all of the outstanding common shares of Enterprise (the "Enterprise Shares") for total consideration of approximately C$4.7 million (based on LNG's closing price on June 21, 2013) payable in shares of LNG.

Under the Arrangement, each one Enterprise Share will be exchanged for five common shares ("Exchange Ratio") in the capital of LNG (each common LNG share being an "LNG Share"). The consideration to be paid by LNG represents a premium of approximately 66.7% over the closing price of the Enterprise Shares on June 21, 2013 (C$0.06) and a premium of approximately 11.1% to Enterprise's 60-day volume-weighted average price (C$0.09).

David Nelson, President of LNG commented, "This acquisition strengthens LNG's financial position and bolsters our interest in our key assets in Papua New Guinea. In addition to Enterprise's prospective USA assets, the resulting improved balance sheet will provide the necessary capital needed to ensure that LNG can properly evaluate future results coming out of our recently announced farm-out with Heritage Oil Plc ("Heritage"). "

In January 2013, Enterprise's 50% owned subsidiary, EERL (BVI) Holdings Ltd., acquired a 31.5% interest in Telemu No. 18 Limited ("Telemu"), a Papua New Guinea subsidiary of LNG. In April 2013, Telemu and other Papua New Guinea subsidiaries of LNG, entered into a farm-in agreement with subsidiaries of Heritage under which those subsidiaries acquired an 80% interest in PPL 319 and PRL 13, subject to fulfillment of work commitments under the farm-in agreement. Upon completion of the Arrangement, LNG will increase its net interest in PPL 319 from 13.7% to 16.85% and will continue to hold a 20% net interest in PRL 13.

Summary of Transaction

In connection with the Arrangement, LNG Exploration Ltd., a wholly-owned subsidiary of LNG ("Subco") will amalgamate with Enterprise and LNG will issue, at the Exchange Ratio noted above, an aggregate of approximately 238,633,975 LNG Shares to the former security holders of Enterprise. The Arrangement will be subject to, among other things, the favourable vote of 66 2/3% of the holders of the Enterprise Shares obtained at a special meeting of Enterprise shareholders to be called to approve the Arrangement. Enterprise expects the meeting will be held in mid-August 2013. The transaction is expected to close during August 2013, and is subject to the satisfaction of certain of the conditions set out in the Arrangement Agreement, including receipt of court approval, the approval of the TSX Venture Exchange and the approval of Enterprise shareholders. The Agreement includes a commitment by Enterprise not to solicit alternative transactions, and Enterprise has agreed to pay a break fee of C$250,000 to LNG under certain circumstances.