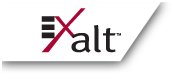 CAMPBELL, CA -- (Marketwired) -- 06/24/13 -- Exalt Communications, Inc., the leading innovator of next-generation packet microwave backhaul systems, spoke today for the first time about its early development of ultra-low latency microwave systems driving the evolution of financial trading networks to support high frequency trading (HFT). Already widely known and respected in telecom and other wireless networking markets for its low latency, high performance, and highly reliable microwave backhaul systems, Exalt was approached in 2010 by financial trading network operators interested in microwave as a better alternative to fiber for transporting data at very high speeds. Improving on fiber's speed with ultra-low latency was a natural next step for Exalt. The company, founded in 2004 and whose technical staff collectively has over one thousand years of microwave experience, not only developed the breakthrough technology that exceeds fiber's near-speed of light, but delivered its ultra-low latency systems to these network operators at 1/10th the cost of fiber.

"In high-frequency trading, where being ahead of the competition can mean profits worth millions, every microsecond shaved off a trade can make the difference," said Amir Zoufonoun, CEO of Exalt. "Microwave delivers this competitive edge. It's faster than fiber's near-speed of light, can go where fiber cannot over the shortest distance between two points, and it does all this for less cost. When we decided to apply our microwave expertise to this unique market, we committed for the long-term, recognizing that our unique expertise would allow us to make a significant contribution to the evolution of HFT networks by delivering the ultimate in speed, reliability, and flexibility."

HFT and the Need for Speed
The biggest driver of high frequency trading has been the growth of market participants and fragmentation of exchanges, creating dozens of venues quoting the same securities and resulting in massive amounts of data to review. Estimates state that more than 50 percent of all equity-trading volume in the U.S. is executed by high frequency traders, and global market estimates top 35% and growing. HFTs do not trade entire markets, but only a subset of symbols, funds, or contracts, with tens of millions of dollars at stake each day. These traders make money a fraction of a cent at a time, multiplied by hundreds of shares, tens of thousands of times per day, and the opportunity to make money may exist only for microseconds. HFT applications support the rapid turnover of positions through the use of sophisticated trading algorithms, which process hundreds of trades in fractions of a second on the basis of changing market conditions.

Positions are often held for an extremely short time, with no positions remaining at the end of the day. The faster a trading application responds to market signals -- completing an analysis, arriving at a decision, and sending a market order -- the higher the chances of getting an order filled. The ratio of orders filled to orders unfilled is a common metric for gauging the success of a given algorithm and infrastructure. To beat their competition, traders must identify and act more quickly on opportunities, and that translates to the need for speed. If a computer algorithm can spot a millisecond-level opportunity in which a stock is -- instantly -- worth more on one exchange than another, it can make quick money.