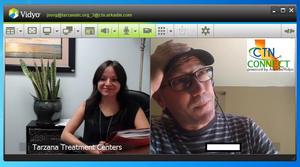 California Telehealth Network Uses Video Conferencing from Arkadin/Vidyo to Connect Patients with Healthcare Providers to Improve Quality of Care





SACRAMENTO, CA and ATLANTA, GA and HACKENSACK, NJ -- (Marketwired) -- 06/21/13 -- Arkadin, one of the largest and fastest growing collaboration service providers in the world, and Vidyo, Inc. today announced that the California Telehealth Network (CTN), the state's leading telehealth partnership organization, will be offering its members access to a new web-based video conferencing solution based on Vidyo's platform. The service is called CTN Connect powered by Arkadin/Vidyo and will enable healthcare providers to virtually connect with other healthcare providers or patients using a standard wired or wireless Internet connection. The launch of CTN Connect supports CTN's mission of increasing access to healthcare through advanced information technology, with an emphasis on rural and medically underserved areas of California.

CTN Connect is a scalable, easy to use, web-based video conferencing service ideally suited for telehealth. High definition [HD] video and imaging quality enables the user to engage in video conferencing collaborations for reliable and secure interactions between healthcare professionals, or between patients and providers meeting remotely. CTN Connect can be used for routine patient visits or for more intensive consultations involving medical diagnosis and treatments. The platform is interoperable with most legacy video conferencing platforms and provides encryption to enable sharing of patient information or images. Beyond the clinical applications, CTN Connect enables users to conduct virtual staff meetings or participate in distance education or training sessions. Mobile applications for smartphones and tablets provide additional support for healthcare providers who prefer not to use or do not have access to traditional video conferencing equipment. CTN Connect enables users to securely connect to up to nine video endpoints simultaneously from any computer desktop or legacy end-point.