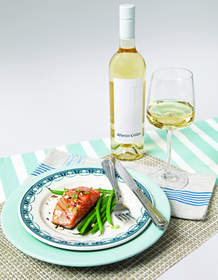 Grilled Salmon with Hazelnut Butter


MISSION, KS -- (Marketwired) -- 06/20/13 -- (Family Features) Few things better capture the feel of summer than the three S's: sun, sand and, of course, seafood. Welcome the warm weather and embrace the fresh flavors of the sea with simple, yet delicious, coastal-inspired dishes.

Always a family favorite due to its versatility, seafood takes on a plethora of flavors -- from spicy to buttery and beyond. These Crispy Crab Cakes with Spicy Remoulade will make your mouth water with every savory crunch, while smooth, Creamy Risotto with Asparagus and Shrimp will richly impress even the pickiest of palates.

A Perfect Pairing
Any sea-inspired fare pairs perfectly with a crisp, dry white wine, such as the flavorful Albariño from Martín Códax. With origins spanning back to 12th century Spain, the flavorful Albariño possesses tropical fruit aromas and bright citrus flavors. Also known as the "Wine of the Sea," this wine is the perfect accompaniment to any seafood dish. Consider serving this winning combination at your next outdoor gathering or dinner party and you're sure to receive countless compliments.

Whether you're looking for small bites or a heartier entrée, eat sea-to-table this season and take advantage of what summer has to offer.

For more information, please visit www.martincodax.com.

Suggestions for Serving Seafood
With so many seafood choices it can be difficult to know how to pick the freshest catch. Here are some tips to ensure you're choosing the best at your next visit to the market or fish counter:

•Milk Does a Salmon Good - Milk tenderizes salmon and removes any frostbite or fishy taste, so try defrosting salmon in a container of milk for a fresher flavor.

•Float On, Mussels - Mussels love to float. If a mussel sinks to the bottom of a container filled with water, throw it away -- it's a sign of a bad mollusk.

•"R" for Really Fresh - Oysters taste best when they are harvested during colder weather. For a good rule of thumb, enjoy them during months with an "R" in the name, for example, September through April.

•In the Red - Quality tuna should be deep red with no "rainbow" coloring, which is a sign of old fish.




Grilled Salmon with Hazelnut ButterYield: 4 servingsHazelnut Butter:3     tablespoons butter, softened2     tablespoons finely chopped hazelnuts, toasted2     tablespoons finely chopped scallions2     teaspoons lemon juiceSalmon:1/2   teaspoon salt1/4   teaspoon ground black pepper4     salmon fillets, each about 6 ounces
Combine all ingredients for Hazelnut Butter in bowl; set aside. Sprinkle salt and pepper on both sides of salmon. In a preheated grill pan, grill salmon, skin side up, for four minutes. Flip salmon, topping each fillet with 1 tablespoon of Hazelnut Butter. Cook for 4 minutes until salmon flakes easily with fork. Serve with sautéed green beans.