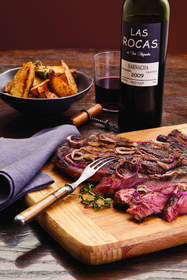 Pan Seared Rib Eye with Balsamic Glaze and Crispy Salted Potato Wedges


MISSION, KS -- (Marketwired) -- 06/20/13 -- (Family Features) Summer entertaining is easy with simple, crowd-pleasing recipes from light bites to sweet delights that require almost no time in the kitchen.

Invite over a few of your closest friends, heat up the grill and set out your favorite wines for a truly memorable outdoor dinner party. Select simple recipes that can be prepared ahead of time and quickly seared on the grill once your guests have arrived. Everyone will enjoy the food and you'll love that you're not trapped in the kitchen. Prep, chop and marinate everything then store it all in containers.

Continue the trend of simplicity by serving food-friendly wines, such as those from Las Rocas. Las Rocas, which literally means "the rocks" because of the rocky soil where the grapes are grown, produces an incredibly vibrant Garnacha and refreshing Rosé that pair wonderfully with these dishes.

Make the occasion truly special by beginning the festivities at sundown to take advantage of the cool breezes and beautiful sunset. Line the tables with a row of small candles, hang sparkling white lights from the trees and put on your favorite music. Your guests may never want to leave.

For more information, visit www.lasrocaswine.com.

Pan Seared Rib Eye with Balsamic Glaze and Crispy Salted Potato Wedges
Serve with Las Rocas Garnacha, a vibrant and versatile red wine with rich dark berry flavors and aromas.



Yield: 4 to 6 servingsFor Crispy Fingerling Potatoes1 pound small Yukon gold potatoes cut into wedges Kosher salt and freshly ground black pepper3 tablespoons extra virgin olive oil1 teaspoon roughly chopped fresh rosemary leaves, plus a couple of sprigsFor Steaks Kosher or coarse salt and freshly ground black pepper4 3/4-pound bone in rib-eye steaks, about 1 inch thick1 large shallot, thinly sliced1/2 cup aged balsamic vinegar2 tablespoons unsalted butter
For potatoes: Place the potatoes in saucepan and cover with cold, salted water. Set over high heat and bring to boil. Cook until potatoes are fork tender, about 10 minutes depending on size of potatoes. Drain and rinse under cold running water. Pat potatoes dry with paper towels and season with salt and pepper to taste. Set potatoes aside and begin steak.
For steak: Sprinkle large cast-iron skillet with kosher or coarse salt; heat skillet over high heat for about 8 minutes, then add steaks. Sear until steaks are crusted brown, about 4 minutes; turn steaks. Sear to desired doneness or about 6 more minutes for medium rare. Transfer to cutting board and let rest while you make sauce.
Wipe out pan and add shallot; cook, stirring, about 1 minute. Slowly add vinegar and 1 tablespoon of water and bring to a boil. Stir continuously until reduces and thickens, about 2 minutes. Remove pan from heat, swirl in butter, and season with pepper to taste. Drizzle sauce over steaks just before serving.
To finish potatoes: Heat olive oil in large skillet over high heat. When hot, add seasoned potatoes, cut side down, and rosemary. Cook until golden and crispy, about 2 minutes per side. Sprinkle with additional salt and pepper to taste.
Red Wine and Vanilla Bean Panna CottaYield: 6 servings1 orange1 cup blackberries and or raspberries1 vanilla bean, cut in half3 cups Las Rocas Garnacha wine2/3 cup sugar1 cup whole milk1 1/4-ounce packet unflavored powdered gelatin2 cups whole Greek style yogurt Fresh mint sprigs for garnish
Remove a wide, 2-inch-long strip of zest from orange with sharp paring knife. Peel and segment orange and toss with blackberries, cover and refrigerate.
Scrape seeds from vanilla bean. Place seeds and pod in small saucepan. Add wine, 1/3 cup sugar and orange zest strip. Simmer over medium-low heat until reduced to 1 1/4 cups, about 35 minutes. Discard vanilla bean pod and zest strip. Cool completely. Set aside 1/4 cup for serving.
Combine milk with remaining 1/3 cup sugar in medium saucepan. Sprinkle in gelatin and let stand, undisturbed, until gelatin softens, about 4 minutes. Cook over medium heat, stirring occasionally, until gelatin and sugar are just dissolved (do not boil); let cool. Whisk in 1 cup of wine reduction and yogurt until smooth. Pour into six 6-ounce ramekins or jars, cover and refrigerate until set, at least 3 hours or overnight.
If using ramekins, dip bottom of each ramekin in warm water to loosen. Invert each panna cotta onto a plate. If using jars, skip this step. Drizzle panna cottas with reserved wine reduction and garnish with oranges and berries and sprig of fresh mint.
Goat Cheese Crostini with Grilled Peaches, Serrano Ham and Marcona Almonds
Serve with Las Rocas Rosé, a fruit-forward seasonal wine with notes of raspberry and strawberry.
Yield: 1 dozen crostini12 slices French bread, sliced on the diagonal into 1/2-inch-thick slices Extra virgin olive oil Kosher salt and freshly ground black pepper12 thinly sliced pieces of Serrano ham2 ripe peaches, halved, pitted and sliced onto 12 thin wedges2 ounces goat cheese, crumbled (about 1/4 cup)1 tablespoon roughly chopped Marcona almonds
Preheat grill. Brush each slice of bread on one side with olive oil and sprinkle with salt. Grill, oil-side down until lightly golden brown, about 3 minutes. Remove from grill and place a piece of Serrano ham on each. Drizzle peaches with 1 tablespoon of olive oil and sprinkle with salt and pepper to taste. Grill peaches until grill marks appear, turning once, about 1 to 2 minutes per side. Place warm grilled peaches on top of each crostini and sprinkle each with crumbled goat cheese and Marcona almonds. Drizzle them lightly with additional olive oil. Serve.
About Family Features Editorial Syndicate

This and other food and lifestyle content can be found at
www.editors.familyfeatures.com
. Family Features is a leading provider of free food and lifestyle content for use in print and online publications. Register with no obligation to access a variety of formatted and unformatted features, accompanying photos, and automatically updating Web content solutions.
Image Available:
http://www2.marketwire.com/mw/frame_mw?attachid=2341156
Add to Digg
Bookmark with del.icio.us
Add to Newsvine


Vickie Rocco
vrocco@familyfeatures.com
1-888-824-3337
http://editors.familyfeatures.com