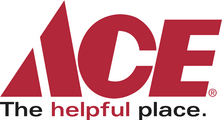 OAK BROOK, IL -- (Marketwired) -- 06/20/13 -- Today, Ace Hardware, the largest retailer-owned hardware cooperative in the industry, unveils its top color trends for summer 2013, collaboratively chosen by Ace's panel of Design Experts. With over 30 years of combined experience in interior design and color selection, the Design Experts -- Katie Reynolds (Dallas, Texas), Nathan Fischer (Orange County, Calif.) and Julie Richard (Boston, Mass.) -- hand selected their top color recommendations for summer from the Clark+Kensington® paint+primer in one color palette. Made up of coastal blues, fresh neutrals, muted pastels and warm grays, the summer color palette features the season's most on-trend hues.

"Summer is one of the most popular painting seasons of the year, so we're thrilled to share our top 15 color recommendations for the season," said Richard. "Selecting a paint color is a personal decision and one that doesn't need to be as daunting as it often feels. Each color we selected from the Clark+Kensington color palette reflects the spirit of the season and showcases a variety of colors and styles that suit different homeowners' tastes and design aesthetics."

Always at the forefront of the latest seasonal trends, Ace's Design Experts recommend the following Clark+Kensington colors for summer 2013:

•Turn your bedroom or bathroom into a personal retreat with varying shades of calming blues. Try a soft blue like Lucky Charm 1062 on the walls and Hamptons 1032, a richer shade of blue, on the ceiling. Complete the look with blue patterned textiles. •Forego neutrals and cool off sun drenched living rooms and dens with seasonal and airy blue-grey hues like Madison Avenue 2016 or Seafoam 2014. •Warm jewel tones are popular this season and a simple trend to embrace. Inspired by beach sunsets, Saphire 1018, Crouching Tiger 4022 and Terra Sol 4044 create the perfect jewel-toned color combination for adding drama to a room, by painting an accent wall and accessories. •Bring summer indoors by brightening up a room with a fresh and airy color like Crisp Linen 4052 or Ocean Breeze 1042. Choose a single color and utilize it from floor to ceiling to give the space a clean, modern look. •Grey tones will continue to be popular this season. Try a warm hue such as Ominous Cloud 5044 on your walls and pair it with white trim for a classic, sophisticated look. •Balance out rich, bold colors in your home with light and fresh neutrals like Lamp Shade 3046 and First Love 3048 on accent walls or kitchen cabinets. •Muted pastels such as Beach House 1052, Apple Grove 2034 and Serendipity 5054 each pair beautifully with clean white accents in the form of textiles, accessories or small furniture pieces for a fresh summer look.

Once the colors are selected, Ace's Design Experts recommend the following summer décor tips to assist homeowners in achieving a designer look on their own:

•Fresh, colorful architectural graphic details such as Greek keys are on trend this season. Add visual interest to your walls with graphic accents like these in seasonal hues of blue, green or yellow. •Incorporate natural elements such as raffia, seagrass and limed wood into your décor to bring in a relaxed, summertime feeling. •Brass is a very popular metal this season. Try incorporating it with accents such as accessories and art or updating cabinets with new pulls. Then pair it with deep jewel tones like emerald and sapphire for a dazzling combination. •Furniture sets can make a room look outdated. Break these up into other rooms of the home and shop your local flea markets this summer for pieces that will give your space a personal, eclectic look without the name brand price tag.

Clark+Kensington, a premium line of paint+primer in one, is available exclusively at Ace Hardware and its satin and semi-gloss finishes were ranked #1 by a leading consumer magazine in recent tests of interior paints. The paint line features 120 colors that harmoniously work together to offer homeowners the ability to create a space that matches their personal color and décor preferences.

For more information on Clark+Kensington, Ace's Design Experts or the Summer 2013 color trends, please stop by your local Ace Hardware Store or visit www.pinterest.com/acehardware.

About Ace Hardware
For nearly 90 years, Ace Hardware has been known as the place with the helpful hardware folks in thousands of neighborhoods across America, providing customers with a more personal kind of helpful. In 2013, Ace ranked "Highest in Customer Satisfaction with Home Improvement Retail Stores, Seven Years in a Row" according to J.D. Power. With more than 4,700 hardware stores locally owned and operated across the globe, Ace is the largest hardware cooperative in the industry. Headquartered in Oak Brook, Ill., Ace and its subsidiaries currently operate 14 distribution centers in the U.S and also have distribution capabilities in Shanghai, China; Panama City, Panama; and Dubai, United Arab Emirates. Its retailers' stores are located in all 50 states, the District of Columbia and approximately 60 countries. For more information on Ace, visit www.acehardware.com.