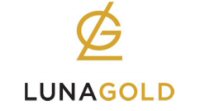 VANCOUVER, BRITISH COLUMBIA -- (Marketwired) -- 06/19/13 -- Luna Gold Corp. (TSX: LGC)(LMA: LGC) ("Luna" or the "Company") today updated the progress of the Phase I Expansion construction and Phase II Expansion Prefeasibility Study ("PFS") for its Aurizona Gold Mine. Luna also announced results of 11 exploration drill holes completed at the Company's Touro target during the first quarter 2013 and the identification of the new two (2) kilometre long Touro Northwest ("Touro NW") shear zone. This discovery at the Touro target is surrounded by a large gold-in-soil anomaly associated with elevated copper and molybdenum values. These values, in combination with geophysical data, define a prominent sub-circular feature of exploration interest. Updated target maps can be viewed on the Luna Gold website at www.lunagold.com.

Aurizona Phase I Plant Expansion Progress Update


--  Overall hours for engineering, procurement, and construction management    are 85% complete--  Engineering is 90% complete and 78% of procurement packages have been    awarded--  Hand-over to construction team and transition of project management and    controls team to site is underway--  Construction progress:    --  Steel assembly is progressing well for the carbon reactivation kiln        ("CRK") and intense leach reactor ("ILR") buildings with the major        equipment rough set of both the CRK and ILR completed    --  Thickener bulk earthworks have been completed and thickener steel        began arriving on site in May    --  Rebar has arrived onsite for the Carbon-In Leach tank foundations        and compacted earthworks have been completed
Visit the Aurizona Phase I Expansion gallery for recent construction photos:
http://www.lunagold.com/en/operations/Phase1PhotoGallery.asp
.
Aurizona Phase II Mine and Plant Expansion PFS Update
--  Phase II PFS considers the Aurizona Gold Mine increasing annual gold    production to between 200,000 and 300,000 ounces--  Delivery of Phase II PFS is tracking to the original release time of    fourth quarter 2013 Luna is pleased to announce that Micon International    Ltd., Vancouver has been awarded the overall preparation and    coordination of the PFS and the process plant expansion study has been    awarded to DRA Americas Inc., Toronto
"I am pleased to announce Phase I Expansion is progressing on time and budget with completion expected at the end of 2013. The Phase II PFS considering a subsequent mine and plant expansion to take Aurizona's total annual production to between 200,000 and 300,000 ounces per year is on track for announcement in fourth quarter 2013. We are looking forward to working together with Micon and DRA to identify a positive business case for Phase II," stated John Blake, Luna's President and Chief Executive Officer.
Touro Exploration Highlights
--  Drilling and mapping have identified Touro NW, which is located 800    meters northwest of the Touro Central Shear Zone--  Highlights from this new shear zone are 15.00 metres ("m") @ 1.18 gram    per tonne ("g/t") gold (TOURD010), 9.00m @ 3.85 g/t gold including 2.00m    @ 15.58 g/t gold (TOURD014), and 1.25m @ 56.53 g/t gold (TOURD012)--  Reinterpretation of all the geologic and geophysical data has defined    the principal trend of the Touro mineralized shear zones as east-    northeast, consistent with the orientation of mineralized structures at    the Aurizona Gold Mine--  Field programs conducted outside the Touro target have discovered a    large, sub-circular gold-in-soil anomaly approximately 2.5 kilometers in    diameter and associated with elevated copper, cobalt, gallium and    molybdenum values.