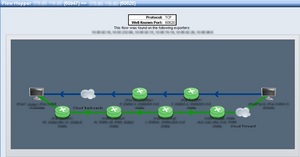 Scrutinizer(TM) V10 network security solution captures Gold and three Bronze 2013 Hot Companies and Best Products Awards.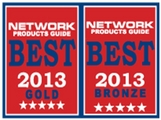 KENNEBUNK, ME -- (Marketwired) -- 06/18/13 -- Plixer International, Inc., a leading provider of Network security solutions and NetFlow-based network traffic monitoring, today announced that Network Products Guide, the industry's leading technology research and advisory guide, has selected its Scrutinizer™ V10 network security solution for Gold and three Bronze 2013 Hot Companies and Best Products Awards. In addition, Plixer also received Honorable Mention within the Hot Companies category.

Industry and peer recognitions from Network Products Guide are the world's premier information technology awards honoring achievements and recognitions in every facet of the IT industry. Winners from all over the world were honored in Las Vegas during the annual dinner and presentations ceremony. Plixer and its Scrutinizer network security solution won the following Network Products Guide 2013 Hot Companies and Best Products awards:

•Gold: Bandwidth Optimization •Bronze: Best IT Software •Bronze: Network Management •Bronze: Performance Optimization •Hot Company: Honorable Mention

"We are very proud of these new awards, they represent the talent and hard work put in by our team, but we still have a lot of work to do. The dynamic threat landscape has put additional pressure on our security engineers to focus more on behavioral based threat detection," said Michael Patterson, Founder and CEO, Plixer International. "We are working with Cisco to develop innovative ways to uncover rogue behaviors and under cover activities."

Designed to detect network threats and enhance network security, Plixer's Scrutinizer V10 is a one hundred percent web-based tool that provides detailed network utilization reports showing the applications and users generating network traffic. Even sites with secured connections that use encrypted traffic can't hide from the insight provided by NetFlow and IPFIX collection and reporting. Scrutinizer is designed to peer deep into bandwidth traffic and enable the network administrator to easily see who is consuming bandwidth, what they are using it for and immediately restore precious bandwidth for work-related needs.