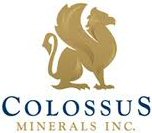 TORONTO, ONTARIO -- (Marketwired) -- 06/18/13 -- Colossus Minerals Inc. (the "Company" or "Colossus") (TSX: CSI)(OTCQX: COLUF) is pleased to provide a development update for its 75% owned Serra Pelada gold-platinum-palladium Mine. The Serra Pelada Mine is a joint venture between Colossus and Cooperativa de Mineracao dos Garimpeiros de Serra Pelada ("COOMIGASP") located in the State of Para, Brazil.

HIGHLIGHTS


--  The Company remains on track for initial production in the third quarter    of 2013 at a rate of 250 tonnes per day ("tpd"). Current planning    indicates ramp-up to 1,000 tpd is achievable by the end of the first    quarter of 2014. A photo update is included in this release.--  The Company has substantially completed its bulk sample program.    Additional development is ongoing in the Central Mineralized Zone    ("CMZ") for grade control purposes and to continue building a stockpile    ahead of process plant commissioning. The Company currently has    approximately 2,500 tonnes of material on the run of mine ("ROM") pad    including lower grade halo mineralization and CMZ material. Assays are    pending and initial grade reconciliation ongoing.--  The remainder of June and July will be focused on extending the    excavation in the bulk sample access drift in order to build a 10,000    tonne surface stockpile ahead of mill commissioning in the third    quarter. This stockpile will include bulk-sample material which will be    segregated and processed separately for grade control testing. The    Company also expects to begin development of a second access drift into    the CMZ by the end of June.--  Project construction is currently 85% complete. Structural steel    erection is now 55% complete. The ball mill is in place and all three    gravity concentrators have been installed. Commissioning will commence    in July starting with the primary crusher and progressing through other    individual operating areas of the process plant.--  Other underground development remains on schedule and continues to    average in excess of three metres per day. The drive towards the    ventilation shaft remains on schedule.--  Other infrastructure development remains on schedule.    --  Commissioning of the power house is complete and this facility is        providing 100% of the Company's power requirements.    --  The tailings dam is approximately 35% complete and is expected to be        ready in conjunction with start of mill commissioning.    --  The ventilation shaft has been collared and expansion is well        advanced. The upgraded ventilation facility will be completed by the        end of the third quarter.
Claudio Mancuso, Chief Executive Officer commented, "We continue to remain focused on development and beginning production in the third quarter of 2013. We have achieved a number of significant milestones in the past month such as substantially completing our bulk sample program, commissioning our power house, collaring the ventilation shaft and raising additional capital to provide flexibility during ramp-up. We are pleased with our development progress and look forward to pouring gold in the third quarter of this year."