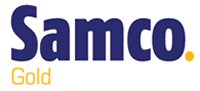 TORONTO, ONTARIO -- (Marketwired) -- 06/17/13 -- Samco Gold Limited (TSX VENTURE: SGA) ("Samco Gold" or the "Company") is pleased to announce encouraging results of an induced polarization (IP) survey completed in May 2013 at its Corina Project in Santa Cruz province, Argentina.

HIGHLIGHTS


--  30 line km of gradient array and 4 line km of pole-dipole IP have been    surveyed over the core Cerro de la Mina - Cerro Cubilete area.--  Resistivity and chargeability anomalies correlate closely with known    mineralization at Cerro Cubilete and show target extension of at least    250 metres beyond the most southerly drill hole.--  Additional parallel structures at Cerro Cubilete confirm potential to    the east of the drilled structure, beneath unmineralized cover.--  Eight further anomalies have been identified in the Cerro de la Mina    area and extending to the south. Ongoing lag sampling is expected to    provide additional information on these areas.--  The longest of the chargeability anomalies, extending SE for over 1,000m    and continuing outside the area surveyed, shows parallel resistivity    anomalies and is associated with zones of quartz veinlets, Fe and Mn    oxides, and pervasive silicification.--  At Cerro de la Mina, anomalous geochemistry, IP response, magnetics,    veinlet development and alteration combine to define a compelling    exploration target.
PROGRAM OVERVIEW
The survey was carried out by the Instituto Nacional de Recursos Minerales (INREMI) of the Universidad Nacional de La Plata, and comprised 30 line km of gradient array IP and 4 line km of pole dipole over two selected areas.
The gradient array survey covered the Cerro Cubilete and Cerro de la Mina prospects, and comprised:
--  A northern block of 24 lines 50m apart, each line 600-800m long,    covering Cerro de la Mina.--  A southern block of 12 lines, spaced 100m apart covering the area south    of Cerro de la Mina.--  A small eastern block of six lines 400m long, spaced 100m apart,    covering the known mineralization at Cerro Cubilete.
Electrodes were spaced at 25m on each line. The arrangement of current electrodes (1200m apart) gave a maximum depth penetration of approximately 200m.
The area of the survey is shown on Figure 2, together with existing drill-holes and selected rock chip anomalies. Currently, Samco is awaiting the results of a lag soil geochemistry program carried out over subsantially the same area as the geophysical grid.
The pole dipole survey comprised four lines, each 1 km long, shown on Figure 2 and also on Figures 3 and 4. Two lines were surveyed in the northern gradient array block covering Cerro de la Mina, and the other two in the southern block.
As well as the geophysical survey, INREMI geologists mapped alteration and geology along the geophysical grid lines, and constructed geological and geophysical profiles along four lines across Cerro de la Mina.
To view Figure 1, please visit the following link:
http://media3.marketwire.com/docs/sga0617fig1.pdf
.
To view Figure 2, please visit the following link:
http://media3.marketwire.com/docs/sga0617fig2.pdf
.