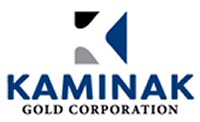 VANCOUVER, BRITISH COLUMBIA -- (Marketwired) -- 06/17/13 -- Kaminak Gold Corporation (TSX VENTURE: KAM) today announced results for 37 drill holes from the ongoing 2013 drilling campaign at the Coffee Gold Project, Yukon Territory. Drilling successfully intersected gold mineralization in 32 out of the 37 drill holes and identified new, shallow, predominately oxidized gold-bearing structures within the Supremo-Latte area which is host to the majority of the 3.2Moz NI 43-101 Inferred Mineral Resource Estimate consisting of 64 million tonnes grading at 1.56 grams per tonne gold ("g/t Au") at a base case cut-off of 0.5g/t Au for Oxide and Transitional material and a 1g/t Au cut-off for Sulphide material. Specifically, drill results are presented from the Connector Zone where the Supremo T2, T3 and T4 zones intersect the Latte East trend, and from the Supremo T1 and T2 zones.

Highlights


--  Supremo - Latte Connector Zone: Multiple oxide gold-bearing structures    intersected within this complex fracture zone marking the intersection    point between the Supremo and Latte mineralized structures. Results    include: 4.49 grams per tonne gold (g/t Au) over 7.62 metres from 38.10    metres downhole; and 7.85g/t Au over 3.05m from 94.49m. Additional drill    testing to better understand the overall potential of this prospective    new interpreted dilation zone will be completed in the coming weeks.--  T2: Drill testing south along the T2 trend was established as a priority    of the 2013 drilling campaign, given its close proximity to T3 and the    potential for accessing both T2 and T3 from a single open pit, click    link: http://kaminak.com/_resources/T2_Drilling_objective.pdf. Drilling    successfully intercepted additional, near surface oxide gold    mineralization and extended T2 750m to the south (total strike length    now exceeding 1.5km), linking it to the Latte trend. T2 is one of at    least seven parallel structures labeled T1-T7 identified within the    Supremo Zone. Drilling has now successfully extended four of these    structures - T2, T3, T4 and T5 - to individual strike lengths in excess    of one kilometer, and in addition, drilling has connected all of them to    the east-west Latte-Double Double trend.--  Supremo-T1-2 Link: Drilling confirmed the presence of a mineralized    structure linking the Supremo T1 & 2 trends. Drill results include:    14.88g/t over 4.58m from 39.62m.
Kaminak President and CEO, Eira Thomas, commented: "Kaminak remains focused on delineating those zones within the Supremo-Latte-Double Double area that have the greatest potential to impact future mining economics. The initial results from Connector, located at the intersection of Supremo and Latte are encouraging, providing evidence of a potentially important dilation zone that will require further drill testing in the near term. Kaminak also successfully extended T2 750 metres along strike and has added proximal, near surface, oxide mineralization along the margin of the T3 conceptual pit, a primary goal of our 2013 drilling campaign. This drilling also provides further support that these deposits are all linked as part of a single, large, structurally controlled hydrothermal gold system, collectively comprising more than 10 kilometres of mineralized strike and still open".