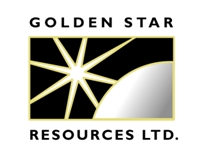 TORONTO -- (Marketwired) -- 06/17/13 -- Golden Star Resources Ltd. (NYSE MKT: GSS) (TSX: GSC) (GHANA: GSR) ("Golden Star" or the "Company") today reports an operations update regarding previously announced cost reduction measures reflected in its press release dated May 8, 2013 which is available on the Company's website at www.gsr.com. The operational review process contemplated three themes: cost reduction measures, mine plan re-optimization and capital reallocation.

Since the release of the first quarter 2013 financial and operating results, management of Golden Star has completed a comprehensive review of the Company's operations. After re-designing the pits to reflect lower gold prices, the Company is confident that operations are viable in the current gold price environment and that existing cash and cash flow from operations can cover its sustaining capital requirements for 2013. As a result of the re-optimization of the mining schedule, Golden Star's 2013 gold production estimate is now expected to range from 290,000 ounces to 310,000 ounces of gold production, approximately 10% lower than previously announced guidance. Cash operating costs are expected to remain in the range of $1,050 to $1,150 per ounce ("oz").

Year-to-date production as of June 12, 2013 is approximately 154,000 oz of gold. Production increases from the Company's lower cost Wassa operations at the Father Brown pit offset ounces lost at the recently suspended Pampe pit. The Company's current cash position as of June 17, 2013, remains strong at $51 million and together with operating cash flow are sufficient to fund sustaining capital for 2013. Capital spending for development projects has been rationalized to reflect current market conditions.

Highlights of the operational review include:

•Capital budget reductions underway for the remainder of 2013: sustaining capital has been reduced to $40 million, reduced by approximately $20 million. Development capital has been reduced to $34 million, reduced by approximately $47 million. The Company's total capital expenditure for 2013 is now expected to be approximately $74 million. •Operating cost reduction initiatives for 2013 total an estimated $45 million, representing approximately 10% of expected annual operating expenses, thereby offsetting the revised gold production forecast. •Exploration spending for 2013 has been reduced to $16.5 million, from $20 million, of which approximately $11 million has been spent to date. •Pit re-optimization at Wassa, Dumasi, and Mampon are completed. The pit shells are based on a $1,100/oz gold price for Wassa and a $1,200/oz gold price at Dumasi and Mampon relative to original $1,450/oz pit shells used for the 2012 reserve estimate. •Pit pushbacks at both Bogoso North and Chujah continue, leading to expected lower cost mining operations in 2014. Hence the Bogoso operations remain viable under current market conditions.

Sam Coetzer, President and CEO of Golden Star, commented: "Our team reacted swiftly to reduce operating costs across the Company to reflect current market conditions. As previously disclosed, the front-loading of spending in the first quarter of 2013 was a reflection of our strategy to unlock value and fast-track the underlying potential of both the Bogoso and Wassa operations. We have reviewed that strategy and have adjusted accordingly to reflect current gold market conditions. For the balance of 2013, the focus is to strengthen Bogoso and create a lower cost operation from mid-2014 onwards. The Chujah pit will be a significant contributor to the Company once the pushback is completed over the next three quarters. Both Chujah and Bogoso North have approximately two years of production in front of them and are anticipated to have a significantly improved cash flow profile. I am pleased to state that these cost-cutting initiatives allow us to continue to invest in these pushbacks.