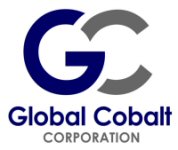 VANCOUVER, BRITISH COLUMBIA -- (Marketwired) -- 06/17/13 -- GLOBAL COBALT CORP. ("Global Cobalt") (TSX VENTURE: GCO) (the "Company") is pleased to announce that it has entered into an agreement (the "Agreement") with Euro Pacific Canada Inc. ("Euro Pacific") as lead Corporate Financial and Transaction Advisor (the "Advisory Services").

"The demand for strategic metals remains a priority globally, with cobalt in particular gaining more recognition for its criticality in the battery and electronics sector," says David Cusson, CEO of Euro Pacific Canada. "Euro Pacific is supportive of the cobalt market and believe that Global Cobalt is the ideal company to fill this niche market and are delighted to have been appointed as financial advisors for this prestigious company and project portfolio."

In its Corporate Transaction Advisory role, Euro Pacific will assist and advise Global Cobalt with the identification and assessment of potential merger and asset acquisition, joint ventures, business combination opportunities and the initiation of contact with candidates.

Euro Pacific will further assist in a Corporate Financial role by administering specific advice on various financing alternatives, and recommendations with respect to institutional investors, including facilitating access to appropriate potential institutional investors for the Company. They will also cater to the Company by facilitating access to experienced analysts and capital markets staff with specialized industry knowledge and understanding.

In compensation for the Advisory Services the Company shall pay an Advisory Fee to the Advisor equal to $50,000 paid in units, subject to TSXV approval. Each such unit will be comprised of one Common Share and 1 share purchase warrant, each such warrant entitling the holder to purchase an additional Common Share at an exercise price of $0.14 for a period of 2 years. Additionally, the Corporation shall the Advisor a cash fee of $15,000 per month for six months beginning July 2013.

"Euro Pacific is the preferred gateway for our Company's exposure to the capital markets. David Cusson and his team have extensive cross border financial advisory experience and the capability to support our projects with a continuum of financial services," says Erin Chutter, President and CEO of Global Cobalt Corp.

Global Cobalt is also pleased to announce that through Euro Pacific's involvement it has entered into a definitive securities purchase agreement with an individual investor to purchase 1,136,334 units (each a "Unit") of the Company (the "Unit Offering") at a price of CAD $0.11 per Unit. Each Unit consists of 1 common share and 1 common share purchase warrant struck at CAD $0.14 for 2 years.

Upon closing, the transaction will result in gross proceeds to Global Cobalt of approximately $125,000, before deducting placement agents' fees and offering expenses. Proceeds from the transaction will be used to fund the Company's operations and working capital requirements.

"This financing is a critical milestone to ensure that we will continue to have funds in place to operate over the course of the next 12 months and to ensure the funds raised stay focused on the development of the Karakul project," said Erin Chutter, President and CEO.