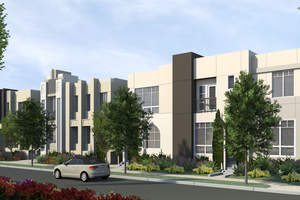 Mark your calendars for the June 29th model grand opening of The Townes at gated ThreeSixty.



HAWTHORNE, CA -- (Marketwired) -- 06/14/13 -- The professionally decorated models are nearing completion at The Townes at gated ThreeSixty, a groundbreaking townhome collection that will celebrate its grand opening on Saturday, June 29th. With pre-sales now underway, homebuyers are encouraged to visit the ThreeSixty Sales Gallery to take advantage of early phase pricing and mark their calendars for the upcoming model debut. Inspired by classic modern architecture and LA's most iconic landmarks, The Townes by William Lyon Homes will offer the first floorplans of its kind in the nation. For more information on these innovative townhomes now selling at prices from the low $600,000s to the low $700,000s, stop by today or get connected online at www.lyonhomes.com/the-townes. Act now and don't miss this rare opportunity to own at The Townes!

"The highly anticipated grand opening will mark an exciting milestone for The Townes and an unprecedented opportunity for convenient townhome living in the desirable South Bay area," said Lesley Pennington, Vice President of Sales for William Lyon Homes. "On June 29th, guests can tour the different models to better appreciate and experience the influences of modern design that will be prominently showcased throughout the interior and exterior designs. The Townes will introduce a landmark collection of floorplans with features and room configurations not ordinarily seen in attached architecture, and judging from the overwhelming pre-sale interest the neighborhood is already generating, we are confident this ThreeSixty address will be an instant favorite."

The Townes' inventive floorplans will be defined by the clean lines, efficient spaces and bright interiors reminiscent of nostalgic LA homes, and will reveal expansive, panoramic windows, spacious bedrooms, kitchens with islands, two-car bypass garages and two-car garages with additional storage, plus large decks to enjoy cool ocean breezes. Select designs will offer ground-level living suites, dens, lofts, flex space and a unique two-car bypass garage that further underscore the homes' smart planning. Five attached designs will range from approximately 1,579 to 2,106 square feet, with two bedrooms plus a den and up to four bedrooms plus den or loft, and 2.5 to four bathrooms.

The award-winning ThreeSixty community is home to 211 residents and more than 100 new homes were sold in 2012, results that underscore the incredible appeal and value of The Flats, The Row and The Garden neighborhoods. Discover ThreeSixty by touring the individual model homes or log onto www.360southbay.com and Like ThreeSixty on Facebook.