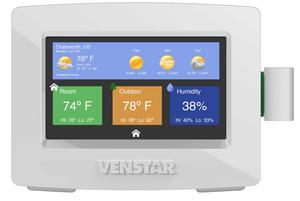 Venstar ColorTouch Thermostats Now Feature Real-time Weather, Remote Firmware Upgrades and Humidity Support



CHATSWORTH, CA -- (Marketwired) -- 06/13/13 -- Venstar®, a leading thermostat and energy management systems supplier, today announced that it has added real-time weather and remote firmware upgrades via its Skyport™ Cloud Service to its ColorTouch® touchscreen, programmable thermostats. For new ColorTouch thermostats, the upgrade also includes humidity control support.

"Real-time weather on the ColorTouch thermostat screen gives users an at-a-glance view of current outside temperatures as well as three-day weather predictions, a benefit we added in direct response to user requests," said Steve Dushane, Venstar's CEO.

Also included in the ColorTouch firmware update is the new Skyport firmware upgrade button, which allows users to remotely update the firmware for their ColorTouch thermostats anywhere in the world using the Skyport Cloud Services online. "This is a huge benefit for users who travel frequently or have multiple homes," Dushane added.

Two new models of ColorTouch also now have humidity control, which enables users to manage indoor humidity settings using their ColorTouch thermostats. ColorTouch with humidity control works with the thermostat's humidity sensor, which automatically detects changes in humidity in residential or commercial environments and adjusts the conditions via the HVAC system and/or a humidifier.

The new firmware comes standard with new ColorTouch residential and commercial thermostats T5900 (residential) and T6900 (commercial) models. Previous ColorTouch models T5800 (residential) and T6800 (commercial) can be updated to the new firmware. Anytime a firmware update is available, a notification will appear on the thermostat screen along with simple prompts to help the user make the update.

Venstar also offers a free ColorTouch mobile application, which allows users to remotely monitor and control their home or commercial thermostats. Compatible with Apple iPhone®, iTouch®, iPad®, BlackBerry® and Android™ devices, the ColorTouch thermostat with Skyport Wi-Fi Key is priced under $250 (estimated end-user cost).

About ColorTouch Residential Thermostat (Models T5800 and T5900)

The ColorTouch thermostat has won top awards for ease of programmability, its color touch screen, and the ability to post up to 100 photos or graphics on the screen. Its multi-functional, simple-to-use, richly featured, programmable touch screen thermostat has customizable backgrounds, which may include the users' own photos as well as more than a dozen pre-set themes, including holiday themes. It also includes a free mobile app for Android, BlackBerry and iOS mobile devices so contractors or homeowners can remotely access and control their ColorTouch thermostats via their Venstar Skyport Cloud online accounts. Compatible with virtually every type of heating and air conditioning system, ColorTouch can be configured to display one of three languages: English, French or Spanish. ColorTouch is the thermostat that thinks it's a digital picture frame! The ColorTouch residential model T5900 is now available with humidity control.