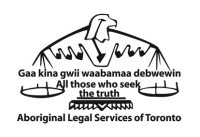 OTTAWA, ONTARIO -- (Marketwired) -- 06/13/13 -- Today ALST urged the Supreme Court to strike down unconstitutional laws and protect street-level sex workers in its decision, Canada v. Bedford. In its intervention, ALST argued that:


-- The Supreme Court must consider that Aboriginal people are over- represented in street level sex work.-- The laws about communication for the purpose of prostitution limit the ability of street-level sex workers to access safety measures that could protect them against violence.-- These laws are unconstitutional.
"The court must consider the reality of Aboriginal street-level sex workers in the Canada v. Bedford ruling. Far too many Aboriginal women resort to survival sex work. Their safety and well-being are at risk daily. Principles of equality and the history of colonialism must be considered in order to protect their Charter rights" said Christa Big Canoe, one of the lawyers for ALST.


Contacts:
ALST
Christa Big Canoe
Legal Advocacy Director
(647) 227-4392
canoecd@lao.on.ca

ALST
Emily Hill
Senior Staff Lawyer
e_hill@lao.on.ca