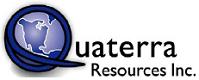 VANCOUVER, BRITISH COLUMBIA -- (Marketwired) -- 06/13/13 -- Quaterra Resources Inc. (the "Company") (TSX VENTURE: QTA)(NYSE MKT: QMM) today announced it has concluded an Amended Agreement with Goldcorp Inc. ("Goldcorp") (TSX: G)(NYSE: GG) which amends certain terms of the Investment Framework Agreement (IFA) dated January 29, 2010, the terms of which were outlined in the Company's news release dated February 10, 2010.

"We are pleased to be continuing our exploration with Goldcorp in central Mexico," says Quaterra President and CEO Thomas Patton. "We believe that with Quaterra's exploration talents and Goldcorp's technical expertise and financial commitment of $15.8 million to date and $1 million for 2013 we are well positioned to discover and develop major deposits."

The Amended Agreement extends the expiration for designation of Advanced Properties to January 2016 from January 2014 and also modifies certain earn-in requirements after a property has been selected as an Advanced Property: 1) Lowers spending requirement to earn a 2% NSR royalty to $1 million over first three years (from $2 million over two years); 2) Lowers the minimum annual expenditure requirement after three years to $250,000 thousand from $1 million; 3) allows Goldcorp to pool expenditures from other projects to one project to meet the earn-in requirement described above.

Goldcorp can earn a 70% interest in any Advanced Property by completing a feasibility study (increased from 65%). At the time a production decision is made, the Company may either participate at 30% or ask Goldcorp to underwrite loan guarantees in return for an additional 6% interest in the property. Goldcorp has committed up to $1 million for 2013 exploration on properties in central Mexico that fall under the IFA.

Details on properties and expenditures will be announced when available.

Quaterra Shareholders Approve AGM Resolutions

Quaterra also announces that all resolutions were passed by the requisite majority at Quaterra's annual general meeting held in Vancouver, British Columbia on June 12, 2013.

Election of Directors

The following incumbent directors were re-elected: Thomas C. Patton, Tracy Stevenson, LeRoy Wilkes, Anthony Walsh, Lawrence Page, Q.C., John Kerr and Todd Hilditch. With the exception of Thomas C. Patton and Lawrence Page Q.C., the Company's directors are independent.

Appointment of Auditors

Smythe Ratcliffe, Chartered Accountants were re-appointed as auditors of the Company for the ensuing year, and the directors were authorized to fix the remuneration to be paid to the auditors.

Stock Option Plan

The Company's 2013 Stock Option Plan was approved and the number of stock options to be granted under the 2013 Plan is a rolling 10% of the number of outstanding issued common shares of the Company, from time to time, less the number of outstanding stock options.

Shareholder Rights Plan

The Company also reported that the shareholders have approved a Shareholder Right Plan at its annual general meeting. The Shareholder Rights Plan was adopted to ensure the fair treatment of all Quaterra shareholders in the event of an unsolicited take-over bid for the outstanding common shares of the Company. In the event that a take-over bid should occur, the Shareholder Rights Plan provides a mechanism to ensure that shareholders have adequate time to properly evaluate and assess it without facing undue pressure or coercion. The Shareholder Rights Plan also provides the board of directors with additional time to consider any take-over bid and, if applicable, to explore alternative transactions in order to maximize shareholder value. Accordingly, the Shareholder Rights Plan is not designed to prevent take-over bids that treat Quaterra's shareholders fairly.