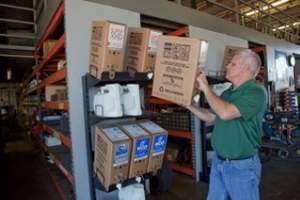 Universal Lubricants EcoPak fan, Eric Unrein, owner of six Midas Auto Service & Tire centers, returns a six-gallon EcoPak to the dispensing stand in Topeka, Kansas.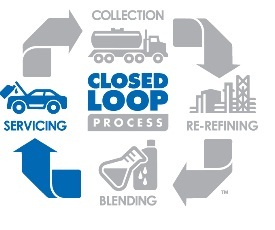 Universal Lubricants' infinitely repeatable closed loop cycle (www.ecoultraoil.com/our_process.php) turns a previously non-renewable resource -- used motor oil -- into a renewable one.


WICHITA, KS -- (Marketwired) -- 06/12/13 -- Universal Lubricants®, manufacturer and distributor of the high performance Eco Ultra® (http://www.ecoultraoil.com/) line of sustainable motor oils, engine oils and transmission fluids, today announced that it has tripled the number of motor oil products offered in its six-gallon EcoPak to meet growing demand from installers across the country who have embraced the convenience, cost savings and environmental benefits of its bag-in-a-box design.

An industry leader in sustainable packaging, Universal Lubricants introduced the six-gallon bag-in-a-box concept to the installer market nearly two years ago after in-depth research revealed technological advances that make the plastic liners leak proof and burst resistant.

"The time was right for this kind of package and the response from installers has been tremendous," said Gary Shaffer, Universal Lubricants director of installer sales. "Buying in bulk saves installers money and reducing the number of individual bottles keeps more plastic out of the waste stream. Since EcoPaks are so easy to store, installers can stock their service bays with a wide variety of engine oils and transmission fluids."

The company's EcoPak offerings now include a full range of Eco Ultra® motor oil, made from crystal clear, re-refined base oil that's purified and blended with high performance additives to protect vehicles and the environment. EcoPaks are available in Eco Ultra 0W-20, 5W-20, 5W-30 and 10-W30 viscosity grades, as well as the 0W-20, 5W-20 and 5W-30 line of synthetic motor oils. Universal Lubricants' global transmission fluid, which can be used across a broad range of manufacturers including Ford, GM, Toyota, Nissan and Honda, also is available in the six-gallon EcoPak.

When Eric Unrein, president of Unrein and Company, Inc., which owns six Midas Auto Service & Tire franchises, learned of Universal Lubricants' EcoPak from a fellow franchise owner in New Mexico, he quickly adopted the packaging for his shops in Topeka, Manhattan, Kansas City and Lawrence, Kansas.

"Having one six-gallon bag of motor oil in a box is more efficient, more cost effective and far more eco-friendly than dealing with 24 individual plastic one-quart bottles," said Unrein. "It's cleaner and faster to just open the spigot on the box, dispense the oil into a 5-quart measuring pitcher and pour it into the engine. My mechanics really like it. We can fit six boxes on the dispensing stand Universal Lubes provided, and store the rest of our EcoPak supply neatly on a shelf. Our entire service bay is less cluttered and more organized. We're very environmentally conscious and it's a big deal to reduce so much plastic waste. This is the way of the future."