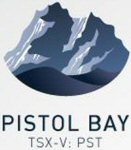 VANCOUVER, BRITISH COLUMBIA -- (Marketwired) -- 06/12/13 -- Pistol Bay Mining Inc. (TSX VENTURE: PST) ("the Company") is pleased to announce that Mr. Paul Gorman, founder of Mega Graphite Inc., has joined the Company as an advisor for its Portland Graphite Project.

Mr. Gorman is a resource based corporate specialist with over 20 years of experience in the junior mining sector. He has been involved in several IPO's as well as the assessment of asset viability and the operating growth of emerging public companies.

Mr. Gorman is the President and managing partner of Riverbank Capital Inc. - a merchant bank that works with small-cap companies to assist them in financing property exploration and developing well defined marketing programs. Mr. Gorman has been responsible for raising capital totaling in excess of $55 million. With Riverbank Capital, he has been involved in the promotion of companies to the investment community and the development of strategic plans for business growth for over 12 years.

Mr. Gorman is currently a director of several private companies and has held directorships with several publicly listed corporations. He has held senior management positions with Canadian and US based firms, providing expertise in the areas of capital raising, corporate governance and strategic initiatives. He has also held the position of CEO at Yukon Gold Inc. and Southampton Ventures Inc.

Mr Gorman had this to say regarding the project and his association with Pistol Bay Mining: "The Portland Graphite Project - a former producer from 20 years ago - has many of the positive attributes required to attract investment and position it as a near term production project. The location is extremely close to major highways, rail, waterways and power supply. The graphite flake itself is world class and the grade, with its low ash and sulphur content, makes it a candidate for purification - which will be highly sought after from graphite consumers world-wide. I look forward to working closely with Pistol Bay's management team to move this project ahead and quickly build value into the recently acquired graphite asset."

The Portland Graphite Project

The project is situated 1.6 km north of Highway 15 between Kingston and Ottawa. It is road-accessible and consists of private lands covering approximately 429 hectares, located 5.5 km northeast of the community of Portland, Ontario. Power and water are available on-site and rail access is nearby.

Graphite on the project is hosted primarily in Precambrian marbles of the Grenville Province. Ontario government geologists reported in the 1960's that the graphite occurs as disseminated flakes, averaging 1/8 inch in diameter. Work on the project by previous operator Victoria Graphite Inc., including 73 drill holes (5,884m), identified graphite mineralization in three zones (D-zone, G-zone and I-zone) over a total strike length of 1,700m. Mineralization dips at approximately 70 degrees to the west. In general, the zones are characterized by broad envelopes of lower-grade graphite mineralization with widths up to 75m, within which are zones of higher grade material, to greater than 10% graphitic carbon ("Cg") based on the diamond drilling by Victoria Graphite in the late 1980's.