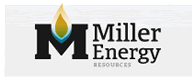 ANCHORAGE, AK -- (Marketwired) -- 06/12/13 -- Miller Energy Resources, Inc. ("Miller Energy" or the "Company") (NYSE: MILL) today announced that its wholly owned operating subsidiary, Cook Inlet Energy, has successfully run casing to a measured depth of 15,265 feet on the Company's RU-2 well sidetrack (RU-2A). A final cement bond test revealed good coverage over hydrocarbon bearing zones. Well log readings from the RU-2A sidetrack indicate a full column of oil throughout the entire Hemlock formation from a measured depth of 14,512 feet to 15,200 feet with permeability, porosity, and resistivity equal to or greater than seen in the original RU-2 well.

"We are very excited about the shows encountered as we logged the Hemlock on the RU-2A," stated David Hall, CEO of Cook Inlet Energy. "The new bottom-hole location is 46 feet higher on structure than the original RU-2 and it is conceivable that we will achieve better oil recovery than was previously experienced. Our team will be diligently working to bring the well on-line within the next several days."

RU-2 has produced approximately 500,000 barrels to date and third party reserve reports from April, 2012 show approximately 950,000 barrels of remaining recoverable reserves from the new well location.

Sword #1

The Company expects to commence drilling the Sword #1 well later this month. Following the mobilization of Patterson's Rig-191 from Tyonek Village, all rig components are on location at the West McArthur River Field (WMR) drill site and are 95% assembled. The Sword #1 is designed as an extended reach well to be directionally drilled to 19,000 feet. It will target probable reserves in an adjacent fault block to the WMR field and test an up thrown fault closure. Company owned 3D seismic over the prospect area shows a faulted four-way closure with a 240 acre structure that contains an estimated recoverable 800,000 barrels of oil.

Olsen Creek #1

The Olson Creek #1 well is planned for near term initial spud date with conductor already set and Rig-34 currently being set up. The Company had previously planned to spud by the end of December, 2012 but construction efforts were delayed due to abnormal weather and resulting road section washouts. The Olsen Creek prospect is northeast and on strike with the production from Aurora's Three Mile Creek Field. Other nearby fields include Beluga River (1.2 Tcf gas), Lewis River (21 Bcf gas), Pretty Creek (12 Bcf gas) and Lone Creek, each of which encountered numerous reservoirs within the objective section. Multiple prospective zones are present within the Olsen Creek prospect area and the planned well will be situated to evaluate the structure. Upon success it is expected that 24 wells would be required to fully develop the field.

About Miller Energy Resources

Miller Energy Resources, Inc. is an oil and natural gas exploration, production and drilling company operating in multiple exploration and production basins in North America. Miller's focus is in Cook Inlet, Alaska and in the heart of Tennessee's Appalachian Basin including the Mississippian Lime and Chattanooga Shale. Miller is headquartered in Knoxville, Tennessee with offices in Anchorage, Alaska and Huntsville, Tennessee. The company's common stock is listed on the NYSE under the symbol MILL.