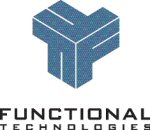 VANCOUVER, BRITISH COLUMBIA -- (Marketwired) -- 06/12/13 -- Functional Technologies Corp. (TSX VENTURE: FEB) (the "Company") reports that its largest creditor, Atlantic Canada Opportunities Agency ("ACOA"), has set down a court application for an immediate termination of the stay of bankruptcy that would otherwise expire at midnight on June 12, 2013. The Company has been unable to obtain ACOA's approval to a third party loan and therefore the Company has no funds with which to base an application for a further extension of the creditor protection period reported in the Company's news release of April 25, 2013.

The Company also reports the resignation of its remaining directors and officers.

The Trustee is:


Abakhan & Associates Inc.625 Howe Street, Suite 1120Vancouver, BC, V6C 2T6Tel: 604 689 4255; 1 877 308 8877Fax: 604 689 4277
NEITHER THE TSX VENTURE EXCHANGE NOR ITS REGULATION SERVICES PROVIDER (AS THAT TERM IS DEFINED IN THE POLICIES OF THE TSX VENTURE EXCHANGE) ACCEPTS RESPONSIBILITY FOR THE ADEQUACY OR ACCURACY OF THIS RELEASE.


Contacts:
Abakhan & Associates Inc.
Rick Hamilton
604 484 7843