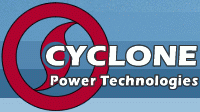 POMPANO BEACH, FL -- (Marketwired) -- 06/12/13 -- Cyclone Power Technologies Inc. (OTCQB: CYPW), developer of the all-fuel, clean-tech Cyclone Engine, announced today that it has commenced its development and testing program with The Ohio State University's prestigious Center for Automotive Research (OSU CAR), beginning with two days of meetings at Cyclone's offices in Florida.

Cyclone recruited OSU CAR to assist in the commercialization of its external combustion engine technology, specifically the company's Waste Heat Engine (WHE) model. OSU CAR is performing finite element and dynamic stress analysis of the engine, followed by independent durability testing and validation. OSU CAR has assembled a distinguished team to advance this project, including:

Gerald W. Fly: Mr. Fly's career in mechanical engineering spans over 38 years, including most recently 14 years with General Motors as a Research Engineer working in the design, development, finite element and structural analysis of advanced power systems. At GM, he received Chairman's Honor Award twice, and holds over 30 patents and numerous published papers. He holds a BS and MS in Mechanical Engineering from the Massachusetts Institute of Technology.

Fabio Chiara: Dr. Chiara has been with OSU CAR since 2007, most recently as a Research Scientist and Adjunct Fellow. Dr. Chiara specializes in fluid and thermal sciences, energy conversion systems, internal combustion engines, dynamic systems and controls. He has published over 30 international peer reviewed papers; and has eight years professional experience in the field of modeling, control and experimental analysis of internal combustion engines, advanced powertrains and energy conversion systems. Dr. Chiara is also a reviewer for SAE, ASME and IEEE.

James H. Durand: Dr. Durand is Director of Testing, Engineering & Software Development Services at OSU CAR. He is an expert in the design, modeling and optimization of energy systems and has over 30 years of industrial and academic experience with a focus on alternative energy and automotive systems. Dr. Durand also has vast experience working with start-up technology companies, and will serve as Project Manager for the Cyclone program at OSU CAR.

Harry Schoell, Chairman and CTO of Cyclone, stated: "We're honored to be working with this well-grounded group of engineers, and believe that with the expertise and resources that OSU CAR brings to the table, we will be able to meet our goals of getting our WHE into production by the end of this year. My innovation team here in Florida will be providing all support necessary to successfully transition our technology to our manufacturing partners in Ohio."

OSU CAR is a Columbus-based interdisciplinary research center within The Ohio State University's College of Engineering, which is located only 30 miles from the site of Cyclone's manufacturing partner, Precision CNC. Among other expertise, OSU CAR focuses on advanced engine development, alternative fuels for reduced fuel consumption and emissions, electric and hybrid drivetrains, and advanced battery technology. OSU CAR performs research and analysis for some of the largest automotive OEMs and government agencies in the world. Student teams housed at OSU CAR have also developed vehicles that have set land speed records for battery and fuel cell powered electric vehicles at the Bonneville Salt Flats, in three different categories. Each of these records has surpassed 300 mph.