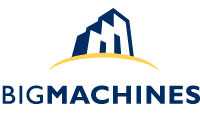 CHICAGO, IL -- (Marketwired) -- 06/12/13 -- BigMachines, the global leader in product configuration, pricing and quoting, proposal generation and B2B ecommerce, announced today it received a "Positive" rating by Gartner, Inc. in the Configure, Price, and Quote Application Suites* MarketScope report -- the only cloud-based solution to achieve a "Positive" rating, the highest given in the report. Evaluation criteria for the Configure, Price, and Quote report included each company's overall viability, customer experience, current products/services, and their respective product roadmap and global strategy.

"With nearly 300 enterprise customers and over 150,000 active sales professionals using BigMachines each day to shorten sales cycles, maximize revenue, and accelerate time to profitable growth, BigMachines has achieved record levels of customer satisfaction and retention," said David Bonnette, CEO of BigMachines. "The adoption of our mobile solutions further amplifies time-to-value and our customers' success allows BigMachines to invest more in our product than all of our competitors combined."

Mr. Bonnette continued, "BigMachines is uniquely positioned to deliver material results for our customers. We believe the Gartner rating validates our product and customer strategy along with the efforts of our employees who are singularly focused on delivering customer success."

Gartner reviewed the most established and respected CPQ solutions based on whether these considerations, among others, were achieved:

•Offer a stand-alone sales configuration application that is sold as a distinct, single product with a proven, two-year track record of delivering production sales configuration systems to multiple clients •Retains sufficient cash position to fund at least one year of business operations at the current burn rate •Retain sufficient professional services or partnerships to fulfill customer demand during the next 12 months •Gain a minimum of five net-new clients in for the vendor's sales configuration software in the last calendar year, from January to December 2012, and five referenceable customers that have gone through at least one version upgrade of the application in the past calendar year. •Demonstrates active market participation in CPQ deals/opportunities, including, but not exclusively, inbound customer inquiries to Gartner by prospects and existing clients, and visible efforts to market and sell CPQ application suites. •Deploy the sales configuration application for direct use by salespeople, partners or customers in a self-service environment in at least 50% of live production clients on the last two major releases of its software. •10% of live production clients utilized both a pricing engine and a quoting module with configuration •Possess a sales presence, and demonstrate visible sales traction in multiple vertical industries and geographies (such as North America, EMEA or Asia/Pacific [APAC]).