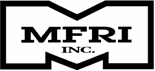 NILES, IL -- (Marketwired) -- 06/11/13 -- MFRI, Inc. (NASDAQ: MFRI) announced today sales and record earnings for the first fiscal quarter ended April 30, 2013. Sales increased 30% in the quarter from the prior year quarter and net income was $1.60 per diluted share compared to the prior year quarter net loss of $(0.30) per diluted share. As previously reported on April 30, 2013, the Company sold most of the domestic assets of its subsidiary Thermal Care, Inc. This business is reported as discontinued operations in the consolidated financial statements, related prior period information and the notes to consolidated financial statements have been restated to conform to the current year reporting of this business.

QUARTER ENDED APRIL 30, 2013

SALES - The Company's sales from continuing operations for the quarter increased 30% to $57.7 million from $44.5 million in the prior-year quarter. Piping systems sales increased $16.3 million in the quarter due to the ramp up of sales in Saudi Arabia with deliveries to major projects including the expansion of the Grand Mosque in Mecca and King Abdul-Aziz International Airport in Jeddah. The increase is also due to domestic offshore oil and gas projects that were underway during the current quarter and which will continue into the second quarter. Filtration products decreased by $4.3 million due primarily to continued reduced demand for fabric filters.

GROSS PROFIT - Gross profit almost doubled to $13.1 million in the current quarter from $6.8 million in the prior-year quarter due to the sales increase in piping systems while filtration products gross profit decreased due to lower sales volume.

EXPENSES - Operating expenses increased to $10.3 million in the current quarter from $9.1 million in the prior-year quarter. The increase was primarily due to start-up costs for the Saudi Arabia facility and accrued commission and management incentive expense for better performance. Also, the Company recorded bad debt expense partially offset by reduced administrative costs from personnel savings in Corporate and Other. Operating expenses as a percent of net sales decreased to 17.9% in the current quarter from 20.5% in the prior-year quarter.

NET INCOME - Net income was $11 million or $1.60 per diluted share including $1.32 per diluted share from the sale of the subsidiary. In the prior year quarter the net loss was $2 million or $(0.30) per diluted share including an $.08 profit from the discontinued operation. Income from discontinued operations net of tax was $9.1 million including the gain on sale compared to $0.5 million for the three months ended April 30, 2013 and 2012, respectively.

BACKLOG - The Company's backlog on April 30, 2013 was approximately $145 million, a slight increase from the prior quarter but almost 80% higher than the backlog at the end of April last year.



Backlog ($ in thousands):       4/30/13    1/31/13    4/30/12                               ---------  ---------  ---------  Piping Systems               $  95,640  $  89,508  $  55,870  Filtration Products             22,232     25,834     12,329  Other                           26,950     28,473     12,914                               ---------  ---------  ---------Total                          $ 144,822  $ 143,815  $  81,113                               =========  =========  =========