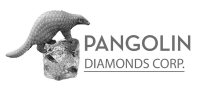 TORONTO, ONTARIO -- (Marketwired) -- 06/11/13 -- Editors Note: There are two figures associated with this press release.

Pangolin Diamonds Corp. (TSX VENTURE: PAN), (the "Company" or "Pangolin") is pleased to announce it has completed a detailed aeromagnetic and radiometric survey over its 100% owned Jwaneng South Project in Botswana. The survey of the 799 km2 project area, located on the Archaean Kaapvaal Craton, identified multiple large aeromagnetic anomalies commonly associated with kimberlites. In addition, a ground gravity survey was completed over the 1.4 km diameter GK6 target.

The Jwaneng South Project is close to De Beers' Jwaneng Mine, the richest diamond mine in the world by value (http://www.debeersgroup.com/Operations/Mining/Mining-Operations/Debswana/Jwaneng).

The findings include:


--  Several large aeromagnetic anomalies commonly associated with kimberlite    intrusions occurring within the project area.--  A 1.4 km diameter geobotanical anomaly, identified as "GK6", is directly    associated with an aeromagnetic anomaly. The geobotanical anomaly over    GK6 is similar to that associated with the 350m diameter Orapa BK3    kimberlite.--  An isolated gravity low over the eastern part of GK6 aeromagnetic    anomaly is similar to gravity lows associated with the nearby Jwaneng    Mine kimberlites and other kimberlites in this field.--  Enzyme-leach trace element results are consistent with orientation trace    element results over known diamondiferous kimberlites from the Jwaneng    kimberlite field. The results come from an independent analysis of    samples by Activation Laboratories Ltd. of Ancaster, Ont.--  The discovery of kimberlite indicator garnets in soil samples.
The GK6 anomaly highlights are shown in the figure below:
A.  1.4 km diameter geobotanical feature with east-west gravity line    locationB.  Gravity profile of east-west line acrossC.  Jwaneng South aeromagnetic survey indicating locationD.  Anomalous vanadium trace element profile across the geobotanical feature
To view the figure associated with this press release, please visit the following link:
http://media3.marketwire.com/docs/pang10610.pdf
Dr Leon Daniels, B.Sc., Ph.D., Chairman of the Board of Pangolin, stated: "Based on these positive results, we have demonstrated the Company possesses multiple high potential project areas for discovering new kimberlites. We have prioritized drilling in the Jwaneng South Project area and will commence in Q3 of 2013. The recently concluded aeromagnetic, radiometric and gravity surveys move us closer to completion of a National Instrument 43-101 Technical Report for this Project."
The Jwaneng South aeromagnetic survey data indicates a range of aeromagnetic anomalies, both magnetic positive and magnetic negative. The figure below shows a 650 meter wide positive anomaly and a 1,000 meter wide negative anomaly.
To view the figure associated with this press release, please visit the following link:
http://media3.marketwire.com/docs/pang20610.pdf