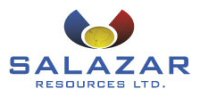 VANCOUVER, BRITISH COLUMBIA -- (Marketwired) -- 06/10/13 -- Salazar Resources Ltd. (TSX VENTURE: SRL)(FRANKFURT: CCG) (the "Company") Further to the Company's news release dated May 13, 2013, the Company is pleased to announce that is has completed a first closing of its private placement (the "Private Placement") and issued 4,545,455 units of the Company ("Units") to Urion Mining International BV, a wholly-owned subsidiary of Trafigura Beheer B.V. (together referred to as "Urion"), a privately held international commodity trading and logistics company, at a price of $0.22 per Unit to raise total gross proceeds of $1,000,000.10. Each Unit consists of one common share of the Company ("Common Share") and one-half of a share purchase warrant ("Warrant"). Each full Warrant entitles the holder to purchase an additional Common Share of the Company for a period of 18 months at a price of $0.35 per Common Share.

The gross proceeds received from the Private Placement are to be used to fund completion of a Preliminary Economic Assessment (the "PEA") on the El Domo property at the Curipamba Project, fund payment of tenure costs and also pay for agreed upon operational costs in respect of the Curipamba Project.

Under the an investment and participation agreement with Urion (the "Agreement"), on receipt of the PEA, which the Company anticipates receiving in approximately eight months, Urion may elect to provide additional financing to bring El Domo into production through an investment in the Company or in its wholly-owned Ecuadorian subsidiary, Minera Curimining S.A. ("Curimining"), subject to Urion acquiring a maximum 35% equity interest in either the Company or Curimining. If Urion elects to provide such financing, it would be obliged to provide financing for up to 50% of the total project costs to bring El Domo into production. Urion would also assist the Company in raising the balance of the funding required to bring El Domo into production. The Agreement also grants Urion off-take rights to purchase all production from future operations.

As a result of the first closing of the Private Placement, Urion now owns and controls an aggregate of 7,045,455 Common Shares, or 13.15% of the issued and outstanding Common Shares. Urion previously held 1,250,000 Common Share purchase warrants of the Company. Assuming the exercise of all outstanding warrants held by Urion, Urion would hold an aggregate of 10,568,183 Common Shares or 18.51% of the issued and outstanding Common Shares.

Urion acquired the additional Common Shares and Warrants for investment purposes. They may in the future take such actions in respect of their shareholdings in the Company as they may deem appropriate in light of the circumstances then existing, including the purchase of additional Common Shares or other securities in the capital of the Company through open-market purchases or privately negotiated transactions, or the sale of all or a portion of their holdings in the open market or in privately negotiated transactions to one or more purchasers, in each case in accordance with applicable securities laws.

Urion has filed an Early Warning Report with the applicable securities regulators in connection with this increase in ownership of Common Shares, and a copy of such report is available at www.sedar.com.