New construction: The production area for conveyor system elements will triple by the summer. (Image: Photo: Manuel Schlueter Photography)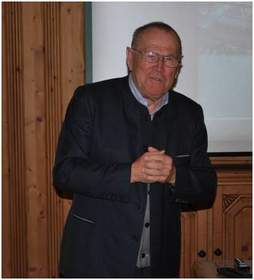 Company founder Walter Winkler: 'Holistic E-Commerce and Multi-Channel solutions will become the focal point of interest in the future.' (Image: Photo: WITRON)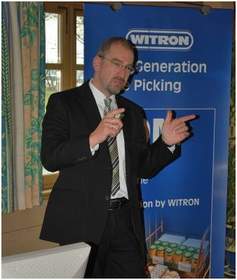 CEO Helmut Prieschenk: 'Revenue increased by 20% from 2011 to 2012.' (Image: Photo: WITRON)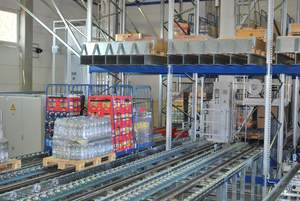 Multi-functional: Thanks to patented technology, the new WITRON shipping buffer is able to transport pallets, roll containers, and insulated containers at the same time. (Image: Photo: WITRON)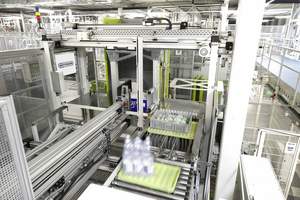 Anniversary: With more than 500 COM machines sold, WITRON's OPM system for fully automated case picking is a worldwide success. (Image: Photo: WITRON)


PARKSTEIN, GERMANY -- (Marketwired) -- 05/07/13 -- Consistently positive news from Bavaria -- WITRON increased sales to 240 million Euros in 2012, a level that is significantly higher than in 2010. "The percentage increase in sales was 20% compared from 2011 to 2012", says WITRON's CEO, Helmut Prieschenk, in the course of this year's press conference held at the headquarters in Parkstein. "For 2013, we also expect an increase in the double-digit range, so we can look very positively into the future. Our motivation is to provide our customers in every project a solution with maximum cost-efficiency and effectiveness. Therefore, we do not sit back and relax, but keep on working hard and consistently."

The fact that WITRON opts for the right technology in the area of automated tote and pallet picking is illustrated by the number of awarded projects.

A recent example is the awarded project for Finnish customer INEX Partners Oy. This order represents the largest single project in the history of both WITRON and INEX. When complete, it will be one of the largest food retail logistics centers in the world. The 1,528,475 square foot logistics center in Sipoo will supply some 40% of all Finnish people with food from the dry goods assortment, the perishable area, as well as frozen goods. On a peak day, WITRON's modules OPM, DPS, ACS, and CPS will pick over 1.4 million units store-friendly onto pallets or roll containers.

Scandinavia has become a very attractive market for WITRON in recent years based on their intense focus on ergonomic work processes.