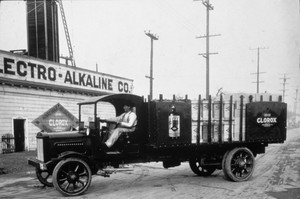 The Clorox Company -- then called the Electro-Alkaline Company -- began in 1913 when five men invested $100 each and using brine from the salt ponds of the San Francisco Bay and an electrical current, created bleach. A century later, Clorox has growth into a $5.5 billion multinational manufacturer and marketer of consumer products used in millions of households around the world.



OAKLAND, CA -- (Marketwired) -- 05/07/13 -- The Clorox Company (NYSE: CLX) today kicked off the celebration of its centennial anniversary, marking 100 years of growth that has led to its becoming a $5.5 billion multinational manufacturer and marketer of consumer products used every day in millions of homes around the world.

"One hundred years ago, five men invested $500 to start a business here in Oakland, California, with the vision of fulfilling their American dream through a bottle of bleach," said Chairman and CEO Don Knauss. "Clorox has come a long way since then. Today, we share the same innovative and tenacious spirit of our founders in pursuing growth opportunities for our business and in ensuring the care and quality that goes into every product."

"Throughout its history -- providing the disinfecting power of bleach around the world, donating products during natural disasters, bringing hundreds of products to life that make everyday life better and investing time and resources in our communities -- The Clorox Company has earned the trust and respect of people everywhere," said California Governor Jerry Brown, who attended Clorox's employee town hall meeting in Oakland. "I congratulate all those present and past who are part of the Clorox family."

Knauss continues, "While it's certainly a time for us to reflect on where we've been, it's even more important for us to focus on where we're headed. I'm confident in the ability of Clorox people and in our strategic plans to continue delivering long-term, sustainable growth."

A global team of talented and highly engaged people drive the business.
Clorox's business strategy begins with its people. The company's strong focus on the engagement, development and well-being of its 8,400 employees around the world helps ensure it is a high performance organization of enthusiastic owners who give their best every day. In the last few years, Clorox's employee engagement scores have significantly surpassed a global benchmark of companies, reaching a high of 88 percent in fiscal year 2012. In addition, the company's focus on fostering a culture of diversity and inclusion has been an integral part of its business. Since 2006, Clorox has earned a 100 percent rating in the Human Rights Corporate Equality Index for its policies and benefits with respect to its lesbian, gay, bisexual and transgender employees. The company also depends on employee diversity to help power innovation and marketing efforts targeting multicultural consumers.