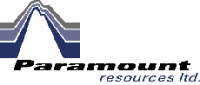 CALGARY, ALBERTA -- (Marketwired) -- 05/07/13 -- Paramount Resources Ltd. (TSX: POU)

FIRST QUARTER OVERVIEW

Principal Properties


--  Paramount achieved record sales volumes of 23,600 Boe/d in March 2013,    the highest since the spin-out of Trilogy in 2005, despite 800 Boe/d of    property dispositions and 2,000 Boe/d of third party disruptions.--  First quarter 2013 sales volumes increased 20 percent from the first    quarter of 2012 to 22,591 Boe/d. Kaybob COU sales volumes increased 46    percent to 14,156 Boe/d.--  Netbacks increased 38 percent to $31.1 million in the first quarter of    2013 from $22.5 million in the first quarter of 2012 as a result of    higher sales volumes and higher natural gas prices.--  Construction of the Company's wholly-owned 200 MMcf/d deep cut facility    at Musreau (the "Musreau Deep Cut Facility") remains on-schedule and in-    line with budget. Commissioning is scheduled to commence towards the end    of the third quarter of 2013.--  Advance drilling for the deep cut facility expansions at Musreau and    Smoky continued. The Company currently has an inventory of 45 (35.5 net)    Kaybob Deep Basin wells awaiting startup of the new facilities.--  In the first quarter of 2013, the Company sold its remaining US    properties for US$21.8 million and properties in the Bistcho area of    Alberta and the Cameron Hills area of the Northwest Territories for net    proceeds of $9.1 million. The Company continues to rationalize its asset    base to focus on the opportunities that generate the best returns.Strategic Investments--  Four of Fox Drilling's rigs are drilling through break-up in the Kaybob    COU. Both of the new walking rigs are currently drilling on multi-well    pad sites.--  Paramount's wholly-owned subsidiary, Cavalier Energy Inc., continued    with front-end engineering and design work for the first phase of the    Hoole Grand Rapids project. These activities are being funded with    drawings on Cavalier's $40 million credit facility.--  The Company's shale gas exploratory well at Patry is expected to be    tied-in later in the year. Drilling operations at Dunedin were suspended    in March due to warm weather, and will resume after break-up.Corporate--  At March 31, 2013, Paramount had cash balances of $48.0 million and its    credit facility was undrawn.--  Corporate segment general and administrative costs per Boe decreased 16    percent to $1.48 in the first quarter of 2013 compared to $1.77 in the    first quarter of 2012.FINANCIAL AND OPERATING HIGHLIGHTS(1)(2)($ millions, except as noted)Three months ended March 31                   2013         2012    % ChangeFinancialPetroleum and natural gas sales               61.3         54.7          12Funds flow from operations                    16.6         12.8          30 Per share - diluted ($/share)                0.18         0.15          20Net income                                     0.4        124.5        (100) Per share - basic ($/share)                     -         1.46 Per share - diluted ($/share)                   -         1.42Exploration and development expenditures                                145.2        142.2           2Investments in other entities - market value(3)                             719.6        675.6           7Total assets                               2,076.5      1,810.9          15Net debt(4)                                  857.9        474.0          81Common shares outstanding (thousands)       90,130       85,569           5OperatingSales volumes Natural gas (MMcf/d)                        113.6         88.6          28 NGLs (Bbl/d)                                2,662        1,652          61 Oil (Bbl/d)                                   998        2,386         (58) Total (Boe/d)                              22,591       18,813          20Average realized price Natural gas ($/Mcf)                          3.47         2.77          25 NGLs ($/Bbl)                                73.78        78.57          (6) Oil ($/Bbl)                                 84.37        89.21          (5) Total ($/Boe)                               30.16        31.95          (6)Net wells drilled (excluding oil sands evaluation)                               9           11         (18)Net oil sands evaluation wells drilled                                         6            1         500--------------------------------------------------------------------------------------------------------------------------------------------------------(1) Readers are referred to the advisories concerning non-GAAP measures and    oil and gas definitions in the Advisories section of this document.(2) Amounts include the results of discontinued operations. Refer to    Paramount's Management's Discussion and Analysis for the three months    ended March 31, 2013.(3) Based on the period-end closing prices of publicly traded enterprises    and the book value of the remaining investments.(4) Net debt is a non-GAAP measure, it is calculated and defined in the    Liquidity and Capital Resources section of Paramount's Management's    Discussion and Analysis for the three months ended March 31, 2013.