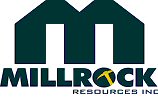 VANCOUVER, BRITISH COLUMBIA -- (Marketwired) -- 05/07/13 -- Millrock Resources Inc. (TSX VENTURE: MRO) ("Millrock") is pleased to announce that it has made an exploration and option to lease agreement with Bristol Bay Native Corporation ("BBNC"). The agreement covers a tract of land that covers three known porphyry copper-gold occurrences on the Alaska Peninsula. The village of Chignik is located roughly central to the land package which is more than 140 km long and 90 km wide and covers an area of approximately 650,000 ha. The known porphyry occurrences are named Kawisgag, Mallard Duck Bay and Bee Creek and these are located near deep tidewater coastlines.

Gregory Beischer, President & CEO of Millrock, stated, "This agreement gives Millrock access to a very large, highly prospective land package that has barely been explored. We are proud to engage with BBNC to responsibly explore for and develop mineral resources. We look forward to performing systematic regional-scale exploration and making great discoveries on these lands. We plan to share the risk of this exploration work by partnering with other exploration and mining companies."

At the Kawisgag prospect, targets are immediately ready to drill. There are two main centers of mineralization and alteration which locally contain disseminated and vein chalcopyrite, molybdenite and pyrite at surface.

The Mallard Duck Bay prospect is a zone of hydrothermal alteration covering an area greater than eight square km. The zone has seen very limited exploration but mineralization appears to be associated with a diorite stock. A strong chargeability anomaly coincident with exposed mineralization in a potassic alteration zone was identified by prior workers, but never drilled.

Mineralization at the Bee Creek prospect is hosted in hornfelsed sediments intruded by a multiphase diorite intrusive rock containing mineralized veins and disseminated chalcopyrite, molybdenite and pyrite. A broad, central, potassic alteration zone bordered by a discontinuous halo of phyllic alteration is exposed at surface. The prospect was initially explored by Bear Creek Mining with five drill holes in 1976. In 2005 and 2006, Metallica Resources Inc. and Full Metal Minerals Ltd. carried out geochemical and geophysical surveys, and drilled two holes. One of the holes intersected 118 m averaging 0.31% Cu, 0.009% Mo and 0.126 ppm Au with 20 m of 0.66% Cu and 0.255 ppm Au (see Full Metal Minerals news release dated October, 23, 2006 entitled "Full Metal and Metallica Encounter Copper Mineralization at Bee Creek" under their SEDAR profile, at www.SEDAR.com). Mineralization, alteration and anomalous copper values in soils and rocks extend over a broad area at the Bee Creek prospect indicating the potential for a significant porphyry Cu-Mo-Au deposit near surface. A qualified person has verified the data disclosed in this paragraph for Millrock.

In addition to these three known prospects, the region is prospective for porphyry copper-gold-molybdenum systems and other intrusive-related deposits such as polymetallic skarn and replacement deposits, base metal veins and epithermal gold deposits. However, very little exploration has been done. A more detailed description of the lands with maps can be viewed at the following link: http://www.millrockresources.com/projects/alaska_peninsula/.