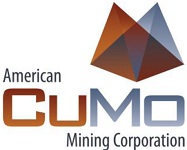 VANCOUVER, BRITISH COLUMBIA -- (Marketwired) -- 05/07/13 -- American CuMo Mining Corporation (TSX VENTURE: MLY)(OTCQX: MLYCF), (formerly Mosquito Consolidated Gold Mines Limited) ("CuMoCo") is pleased to report excellent results from its 2012 diamond drilling program for its Idaho-based molybdenum/copper CuMo Project.

A total of 4,700 meters (15,463 feet) was drilled in nine (9) holes. Holes were located on the extremities of the deposit and as infill to improve resource confidence. The results confirmed the established geological model and also the excellent grade continuity of the mineralized zones. Hole locations are shown in figure 1 and detailed results are contained in table 1 attached.

Highlights from the drilling include:


Interior holesHole 64-12   271.3 meters (890.0 feet) grading 0.122% MoS2             (0.64% Cu Eq., 0.149% MoS2Eq., 2.69 lbs MoO3Eq/t)Hole 67-12   323.1 meters (1,060.0 feet) grading 0.116% MoS2             (0.62% Cu Eq., 0.145% MoS2Eq., 2.60 lbs MoO3Eq/t)Hole 68-12   271.3 meters (890 feet) grading 0.101% MoS2             (0.56% Cu Eq., 0.131% MoS2Eq., 2.35 lbs MoO3Eq/t)Also a high grade silver intersection in 68-12             15.2 meters (50 feet) grading 262.00 gms /T Ag with 0.2% W.External holes (holes on edges of current resource mainly used forgeotechnical information)Hole 60-12   6.1 meters (20.0 feet) grading 0.207% MoS2             (0.98% Cu Eq., 0.229% MoS2Eq., 4.12 lbs MoO3Eq/t)             And             4.9 meters (20.0 feet) grading 0.147% MoS2with 34.18 gms Ag/T             (1.52% Cu Eq., 0.355% MoS2Eq., 6.38 lbs MoO3Eq/t)Hole 61-12   238.4 meters (782.0 feet) grading 0.11% Cu, 0.032% MoS2             (0.32% Cu Eq., 0.075% MoS2Eq., 1.34 lbs MoO3Eq/t)             Note: did not reach Molybdneum bearing zone.Hole 63-12   4.6 meters (15.0 feet) grading 130.6 gms Ag/THole 66-12   268.5 meters (881.0 feet) grading 0.050% MoS2             (0.34% Cu Eq., 0.079% MoS2Eq., 1.43 lbs MoO3Eq/t)             including             9.1 meters (30.0 feet) grading 0.096% MoS2             (0.62% Cu Eq., 0.145% MoS2Eq., 2.60 lbs MoO3Eq/t)Note: Hole entering the Molybdenum zone at depth when stopped.
The entire core from all holes was sampled and cut in half using a diamond saw with one-half sent for analysis while the other half has been kept and stored at the core facility located on site. Following cutting, the samples were delivered directly by CuMoCo personnel to either ALS Chemex or SGS Labs, both fully accredited analytical laboratories located in Elko, Nevada. They were first analyzed for 47 elements using a four (4) acid digestion with analysis by Inductively Coupled Argon Plasma Optical Mass Spectrometer (ICP-MS). Copper and Molybdenum bearing samples were then checked by using a larger five gram sample and analyzed using pressed powder pellet X-Ray Fluorescence Spectroscopy (XRF). In addition, duplicates, blanks, and standards were analyzed to ensure analytical accuracy and reproducibility. All rejects are being kept for further analysis and for use in metallurgical testing.
A full summary of the analytical results is outlined below in Table 1. Mineralization consists of copper, molybdenum, silver and rhenium. As a result of the multi-element nature of the mineralization, it was decided to calculate both a copper and molybdenum equivalent for the intercepts. Both equivalents are required as the deposit is zoned as described above. Please see notes below table for explanation of the calculation of copper equivalent (Cu Equiv.), MoS2 equivalent (MoS2 Equiv.). The presence of the by-product elements gold, silver and rhenium is very significant in terms of the development of the property. Note: Due to recent changes in metal prices, the prices used in the equivalent calculation have been changed to $2.1/lb copper, $10/lb molybdenum oxide and 0.96/gram silver.