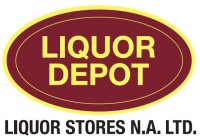 EDMONTON, ALBERTA -- (Marketwired) -- 05/06/13 -- Liquor Stores N.A. Ltd (the "Company") (TSX: LIQ), North America's largest publicly traded liquor retailer today reported its results for the three months ended March 31, 2013.

HIGHLIGHTS

Three months ended March 31, 2013


--  Consolidated sales increased 7.6% to $136.3 million (2012 - $126.6    million);--  Same-store sales increased by 3.0% ($2.7 million) in Canada and    decreased by 2.2% ($0.7 million) in the U.S.;--  Gross margin has been maintained at 25.6%; and--  Operating margin decreased by 6.6% ($0.4 million) to $6.5 million (2012    - $6.9 million).
"We are pleased to welcome Stephen Bebis to our team as our new President and Chief Executive Officer effective May 7. We are confident that Stephen will enhance the Company's prospects for continued expansion and profitability, especially as we look towards growth in new U.S. markets," said Jim Dinning, Chairman of the Board of Directors and Interim Chief Executive Officer. "During the last several months we have also added bench strength to our senior management team in marketing and business development, and have invested in our information
technology
systems to support the Company's growth strategy."
Our financial performance in the first quarter was highlighted by strong increases in total sales, continued same-store sales growth in Canada and consistent strong gross margin percentages.
The 7.6% sales increase in Q1 2013 compared to Q1 2012 was attributable to the growth in the Company's store count (10 new stores opened subsequent to Q1 2012), same-store sales increases in Canada, and the net beneficial impact of the calendar shift over the comparative period (Easter moved into Q1 in 2013 from Q2 in 2012, offset by the impact of having an additional day in Q1 2012 as a result of the leap year). The Company has recorded ten consecutive quarters of 'quarter-over-quarter' same-store sales increases in Canada as at Q1 2013.
Management believes that the 3.0% increase in first quarter Canadian same-store sales compared to 2012 included a net approximate 1.6% increase as a result of the calendar shifts for Easter in 2013, offset by the leap year in 2012. Canadian same-store sales were also impacted by the success of Wine and Beyond (2 large format stores opened in the greater Edmonton area in late September 2012), which, in addition to drawing customers away from our competitors, drew customers away from our convenience-focused Liquor Depot/Liquor Barn stores in the greater Edmonton region. Sales at Wine and Beyond more than offset the decrease in the greater Edmonton region's same-store sales.
Same-store sales in the United States in 2012 were primarily impacted (a decrease of 2.2% or $0.7 million) by certain counties in Kentucky going from 'dry' to 'wet' throughout 2012 (i.e. certain counties in close proximity to the Company's stores that did not previously permit retail package liquor sales are now permitting these sales) and unfavourable weather in Kentucky throughout Q1 2013 vs. Q1 2012. To counteract the impact of 'dry' to 'wet', the Company has been actively sourcing potential acquisitions or opportunities to develop new stores in counties that have gone 'wet' or in counties where we do not yet have a presence. Late in the fourth quarter of 2012 the Company opened one large-format store in Bowling Green, Kentucky.