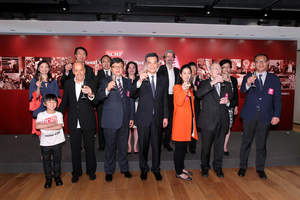 Dignitaries and guests toasting at last night's launch of the South China Morning Post's Celebrating Hong Kong campaign, marking the newspaper's 110th anniversary



HONG KONG -- (Marketwired) -- 05/31/13 -- The South China Morning Post (HKSE: 0583) announced the launch of "Celebrating Hong Kong" at a glittering party at Sotheby's Gallery attended last night by Chief Executive Leung Chun-ying, former Chief Secretary and Acting Governor Sir David Akers-Jones and many of Hong Kong's leading individuals.

The "Celebrating Hong Kong" movement was initiated by the South China Morning Post to mark the paper's 110th Anniversary, which takes place on 6th November this year. It is a shared celebration of the city, and aims to boost positive energy and constructive dialogue through a series of editorial features, partnership activities, ambassadorial support, topical seminars and more.

"South China Morning Post is joining hands with the people of Hong Kong to raise awareness of and take pride in what's great about our city and our people," said Robin Hu, Chief Executive Officer of South China Morning Post. "From our city's culture, heritage and rich traditions to its pillars of the community, 'Celebrating Hong Kong' is our way of saying we love and believe in our city."

An important part of the "Celebrating Hong Kong" initiative is the breadth of support it has garnered from influential individuals and companies. Committed partners include Lane Crawford, MTR, Ecovision, DHL, Agnes b, G2000, Sotheby's, Standard Chartered Bank Hong Kong, Jaeger-LeCoultre, Cathay Pacific, Hang Seng Bank, PwC and many more. Each of the participating partners will implement a programme of their own to support the Celebrating Hong Kong theme.

Influential individuals who have accepted a role as an Ambassador for the initiative include Benjamin Hung, CEO of Standard Chartered Bank Hong Kong, Jay Walder, CEO of MTR, Adrian Cheng, Executive Director of Chow Tai Fook Enterprises Ltd, Olympic cyclist Sarah Lee-Wai Sze, Chairman of Ocean Park, Allan Zeman, Pansy Ho Managing Director of Shun Tak Holdings, Professor Tsui Lap-Chee Vice Chancellor and President University of Hong Kong and the youngest ambassador, Kenny Lau, who is an accomplished child artist, aged 7.

The South China Morning Post have an extensive plan of editorial features scheduled throughout the year, from stories of kindness and acts of humanity, to feats of engineering and other achievements, and features on treasured Hong Kong traditions and destinations.

"As Hong Kong's trusted and authoritative English daily, our role in supporting Celebrating Hong Kong as its leading media voice is a responsibility we are proud to take on," said SCMP Editor-in-Chief Wang Xiangwei. "We aim to tell the story of the best of Hong Kong -- past, present and future; from the things we appreciate but take for granted to the inspiring individuals that have been overlooked. These things deserve to be recognized and reported on."