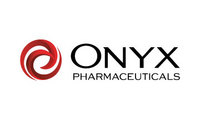 SOUTH SAN FRANCISCO, CA -- (Marketwired) -- 05/31/13 -- Onyx Pharmaceuticals, Inc. (NASDAQ: ONXX) today announced that it will hold a conference call to discuss data presented at an ASCO plenary session from the DECISION study, a Phase 3 trial investigating the use of Nexavar® (sorafenib) tablets in patients with locally advanced or metastatic radioactive iodine-refractory (RAI) differentiated thyroid cancer. The call will feature the principal investigator, Marcia Brose, M.D., Ph.D., Assistant Professor in the Abramson Cancer Center and the Perelman School of Medicine at the University of Pennsylvania, and will include members of Onyx's management.

Date: Monday, June 3, 2013
Time: 10:15 - 11:00 a.m. Central Time

To access a live audio webcast of the conference call, log onto the company's website at: http://www.onyx.com/investors/event-calendar

To access the live conference call, dial 847-585-4405 and use the passcode 34979134 #. A replay of the call will be available on the Onyx website or by dialing 630-652-3042 and using the passcode 34979134 # approximately one hour after the conference call concludes through June 17, 2013.

About Nexavar® (sorafenib) Tablets
Nexavar is approved in the U.S. for the treatment of patients with unresectable hepatocellular carcinoma and for the treatment of patients with advanced renal cell carcinoma. Nexavar is thought to inhibit both the tumor cell and tumor vasculature. In in vitro studies, Nexavar has been shown to inhibit multiple kinases thought to be involved in both cell proliferation (growth) and angiogenesis (blood supply) - two important processes that enable cancer growth. These kinases include Raf kinase, VEGFR-1, VEGFR-2, VEGFR-3, PDGFR-B, KIT, FLT-3 and RET.

Nexavar is currently approved in more than 100 countries. Nexavar is also being evaluated by Bayer and Onyx, international study groups, government agencies and individual investigators in a range of cancers.

Important Safety Considerations For Nexavar® (sorafenib) Tablets
Nexavar in combination with carboplatin and paclitaxel is contraindicated in patients with squamous cell lung cancer.

Cardiac ischemia and/or myocardial infarction may occur. Temporary or permanent discontinuation of Nexavar should be considered in patients who develop cardiac ischemia and/or myocardial infarction.

An increased risk of bleeding may occur following Nexavar administration. If bleeding necessitates medical intervention, consider permanent discontinuation of Nexavar.

Hypertension may occur early in the course of treatment. Monitor blood pressure weekly during the first 6 weeks and periodically thereafter and treat, if required.

Hand-foot skin reaction and rash are common and management may include topical therapies for symptomatic relief. In cases of any severe or persistent adverse reactions, temporary treatment interruption, dose modification, or permanent discontinuation of Nexavar should be considered. Nexavar should be discontinued if Stevens-Johnson Syndrome or toxic epidermal necrolysis are suspected as these may be life threatening.