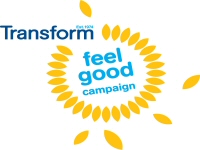 MANCHESTER, UNITED KINGDOM -- (Marketwired) -- 05/31/13 -- Editors Note: There is an image associated with this press release.

Britain may have this week emerged as the tenth happiest country in the world(i), but it's Sheffield that has been identified as the UK's happiest city, with a third of Sheffielders claiming they feel good every single day of the week. And despite a reputation for their party personas and glam girls, the same number of Liverpudlians reported that the Scouser smile is all for show, as they sadly never feel good about themselves.

Not to be outdone by the city of steel, Geordies are vying for the top spot in the feel good factor, living up to their 'larger than life' characters with a quarter revealing they feel just dandy Monday through to Sunday. And it was the lads rather than the lasses that were feeling fine, with over a third of men sporting the feel good factor in the 'Toon'.

Delving into what makes the UK tick, the study(ii), commissioned by Transform Cosmetic Surgery Group, revealed that we're a nation of do gooders, with a substantial 61% of Brits stating doing good deeds for others is what makes them feel good. Of the two thirds of helpful folk, Sheffield yet again came out top with 72% getting that warm glow from doing good deeds for others. There's much to be said for the northern charm.

Surprisingly, only 37% of Brits said sex is what floats their boat. In matters of the boudoir, Norwich came out on top with sex high on their list of feel good factors - over twice as many as those in the northern corners of Belfast.

Other contenders to the top spot included receiving a compliment, which was seen to change a day for the better and left half of all Brits with a spring in their step, and spending time with family induced good feelings for nearly three quarters of all respondents.

Despite many of us feeling fine, the study also revealed that a quarter of all Brits NEVER feel good about themselves, uncovering deep-rooted insecurities and lack of self-esteem. Most startling is that for over a quarter of respondents, facing themselves in the mirror ranked highest in terms of situations where confidence escaped them.

Other tragically close contenders included dealing with bank or utility companies, which left nearly one fifth of adults quivering like jelly, and a worrying 35% of parents felt they have no confidence to pass on to their children.

The research was undertaken as part of Transform's Feel Good Campaign - a series of initiatives with the aim of empowering the nation to celebrate their own lives. By launching the campaign, Transform is encouraging people to become their own champions, whether it be taking up a new hobby, asking that certain someone out on a date, or just clapping themselves on the back for being fabulous every now and again.

On the surface it would seem that the 25-34 age bracket is when confidence and feeling good is at its highest. When asked why, 35% described it as the time they were simply 'comfortable in their own skin'. Interestingly, good relationships and buzzing social lives ranked a lot lower down the pecking order - testament to the belief that you need to feel good within yourself before others can make you feel good.