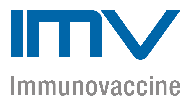 HALIFAX, NOVA SCOTIA -- (Marketwired) -- 05/30/13 -- Immunovaccine Inc. ("Immunovaccine" or "IMV") (TSX VENTURE: IMV), a clinical stage vaccine company, has agreed to use its lead cancer product, DPX-Survivac, in a study based in Rome designed to extend life for glioblastoma patients. The multicenter trial will be led by Professor Marianna Nuti, Ph.D., Department of Experimental Medicine at the University of Rome, and conducted in collaboration with neurosurgeons and oncologists coordinated by Professor Maurizio Salvati, M.D. Four major trial centers across Italy will be involved, with the cost of the trial being assumed by the university. The randomized, placebo-controlled study will enroll more than 50 patients with newly diagnosed brain tumors that have been maximally resected. The study is expected to start in Q4 of 2013.

The Phase II study will evaluate DPX-Survivac therapy in combination with temozolomide, the standard of care therapy for newly diagnosed gliobastoma patients following surgery and radiation. With current standard of care, median overall survival for newly diagnosed glioblastoma patients is less than 24 months with median time to disease recurrence less than seven months. Temozolomide is used in both the front-line and maintenance setting in treating patients with glioblastoma. It has been reported to have immune-modulating effects making it a suitable drug to combine with cancer vaccines. DPX-Survivac will be applied only during the temozolomide maintenance phase.

Patients will be randomized into three groups to receive either DPX-Survivac; a dendritic cell (DC) based survivin vaccine; or, the standard of care with a placebo vaccine. The primary goal of the study is to evaluate the effectiveness of DPX-Survivac. Secondary endpoints will include progression-free survival and overall survival following the proposed combination therapy. Initial data from this trial is expected in the second half of 2014.

"We are enthusiastic to apply DPX-Survivac in glioblastoma patients," stated Dr. Nuti. "This type of tumor has been demonstrated to express survivin at a high level and DPX-Survivac has demonstrated promising immunogenicity in a clinical trial in ovarian cancer patients. We hope to achieve similar immunogenicity in glioblastoma patients."

Marc Mansour, chief science officer of Immunovaccine, said, "A survivin vaccine has broad utility across different cancer types, and glioblastoma is a good setting for testing the immunologic effects of DPX-Survivac. This trial allows us to test DPX-Survivac with an interesting immune modulator and in a minimal residual disease setting. This adheres to our principles for applying a therapeutic vaccine in patients with metastatic disease."

Earlier this year, Immunovaccine announced positive results from the Company's Phase I clinical trial of DPX-Survivac. Data showed all patients that had received DPX-Survivac in combination with cyclophosphamide produced targeted immune responses and that there were multiple strong responders among this group who presented circulating target and sustained specific T cells (CD8 T cells) in their blood.